News story
Diwali 2014: message from Nick Clegg
The Deputy Prime Minister wishes "Saal Mubarak" to everyone celebrating Diwali today.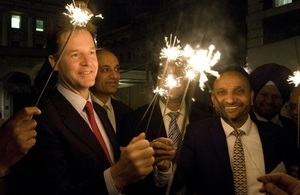 Watch Nick Clegg's video message for Diwali
Read the full message
Saal Mubarak. This is the time of year when the lights of Diwali burn brightest, bringing joy to communities across the world. Important to Hindus, Sikhs and Jains, Diwali means different things to different people. Yet the core values it embodies – kindness, compassion and the enduring power of knowledge to banish ignorance and fear – matter to all of us, regardless of our faith or background.

In Britain, our pride in holding some of the biggest Diwali celebrations outside of India is a constant reminder of the diversity, generosity and openness that makes our country great. So whether you are in Leicester or New Delhi, marking the return of Lord Rama from exile, attainment of moksha by Mahavira or the Bandi Chhor Divas – this is a chance for all of us to come together, learn from each other and have fun, enjoying the lights and joyous music of Diwali.

So, I want to wish every one joining their family and friends for food, prayers and fireworks over the next five days a very happy and peaceful New Year.

Diwali Mubarak.
Published 23 October 2014