News story
DISTINCTIVE research into nuclear waste and decommissioning
More than 30 research students working on a unique four-year nuclear programme gathered in Sheffield to discuss their work, share progress and exchange ideas.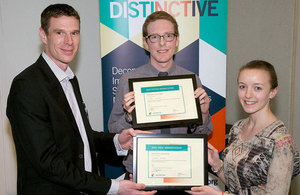 The DISTINCTIVE consortium (taken from Decommissioning, Immobilisation and Storage Solutions for Nuclear Waste Inventories) is a group of PhD and post-doctoral researchers from universities. They are working with industrial advisors and academics on research into themes relevant to decommissioning the nuclear legacy.
The 100-plus delegates at the consortium's first annual conference included:
leading academics
industry representatives
regulators
international organisations
NDA, Sellafield Ltd, National Nuclear Laboratory (NNL) and the Engineering and Physical Sciences Research Council (EPSRC) sponsored the one-day event and the programme.
The DISTINCTIVE programme was launched last year to help develop the next generation of nuclear experts, while encouraging greater collaboration between multi-disciplinary university research projects and industry.
The researchers are liaising closely with industrial supervisors from Sellafield Ltd and NNL to make sure their work addresses relevant issues.
The Sheffield event enabled all those involved to get together to share their initial research results. It also provided the opportunity to network with other members of the DISTINCTIVE consortium and the wider nuclear decommissioning supply chain. The students designed posters to display at the event, outlining progress achieved over the year, and gave a series of presentations. Delegates voted for the "Best Poster" and "Best Oral Presentation".
NDA Research Manager, Rick Short, awarded:
Poster prize to Conrad Johnston, Queen's University Belfast
Oral presentation prize to Stephanie Thornber, University of Sheffield
Keynote speakers during the day included internationally renowned nuclear specialists:
Prof Eric McFarland from the University of Queensland, Australia
Prof Ian Pegg from the Catholic University of America
Rick added:
The industry derives huge benefits from focused academic research that is directed specifically at some of the challenges we face in dealing with our nuclear legacy. We very much welcome this kind of collaboration and look forward to seeing these projects progress.

It is essential that the students understand the context for their work and how it could be applied on the ground. We look forward to seeing their expertise develop and hope their skills will contribute to decommissioning progress in the years ahead.
Prof Michael Fairweather, from Leeds University's Institute of Particle Science and Engineering, said:
The event encouraged a significant amount of engagement between industry experts and our researchers. It was great to see so many supporters of the DISTINCTIVE consortium and was very encouraging to see some new faces. We look forward to seeing everyone in Bristol next year for the 2nd Annual Meeting!
The DISTINCTIVE Consortium has now published its first newsletter, which outlines progress and is scheduled to be issued twice a year.
Published 10 July 2015