World news story
Discovering Partnerships: British Pharmaceutical Company GlaxoSmithKline comes to meet Israeli Scientists
The UK Israel Tech Hub at the British Embassy Israel is hosting a delegation of industry scientists of the British pharmaceutical firm GlaxoSmithKline (GSK) this week.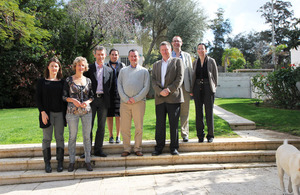 This purpose of this visit is to facilitate cooperation between Israeli academic scientists and GSK. This is the first time such a team from GSK has visited Israel.
The GSK industry experts lead a initiative called "Discovery Partnerships with Academia", which is aimed at finding new medicines using a unique model for cooperation that has until now been tried with only a few European and north American institutions. During their visit, the GSK team will be meeting with tens of Israeli scientists working at different Israeli universities.
Dr Duncan Holmes, European Head of DPAc said: "We are looking for academic researchers who want to be involved in turning their innovative research into medicines. We offer them a partnership in which they will work alongside drug discovery experts from GSK to progress their ideas forward. Israel is full of potential, and we are excited to be exploring the opportunities for collaboration here".
Published 25 February 2013