Disasters: Using science to reduce the impacts of natural hazards
Using science to reduce the effects of future natural hazards such as floods, droughts and earthquakes must be stepped up aa new Foresight report published today.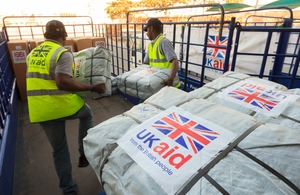 The use of science to reduce the effects of future natural hazards such as floods, droughts and earthquakes must be stepped up and adopted more widely according to a ****new Foresight report published today**.**
It sets out how lives, livelihoods and resources could be saved through better use of technological developments and existing risk assessment methods.
The report also urges that disaster risk reduction is routinely built in to developments as diverse as urban infrastructure, ecosystem protection and mobile telephone regulation. These measures would help reduce the cost of disasters, which has outstripped the total international aid investment over the past 20 years and led to the loss of 1.3 million lives and $2 trillion of damage.
Government Chief Science Adviser Sir John Beddington, who led the research, said:
"Death and destruction are not the inevitable consequences of natural hazards. We need to grasp this. Urbanisation over the next three decades, particularly in Africa and Asia, will continue. While this could lead to greater exposure and vulnerability, it also presents the greatest opportunity to protect large concentrations of people.
"Science already explains why disasters happen, where many of the risks lie and sometimes when. Disaster risk reduction going forward needs to be firmly rooted in high quality science-based models so that the best decisions on what works can be made.
"Further, change on a more fundamental level is required so that policy makers beyond the traditional boundaries recognise they have a part to play."
The report outlines a number of priorities for decision makers on improving the science and how it is used in disaster risk reduction, including:
Understanding what works and what does not work in reducing risks is critical. Easily accessed, robust evidence on costs and benefits is badly needed
Like the insurance industry, the view of the future needs to be rooted in science based risk models. Research effort is needed to make models of disaster risk work with each other and produce easy to use forecasts of disaster risk
The next generation of supercomputers and satellites will greatly strengthen disaster forecasting.  International collaboration could make this expensive scientific infrastructure affordable.
Secretary of State for International Development, Justine Greening said:
"Natural disasters hit those in the developing world particularly hard. But the developed world is not immune, as we saw with Hurricane Sandy in the US and the Caribbean last month.
"Resilience is about boosting a country's ability to deal with disasters- whether it is helping people in earthquake zones build to withstand shocks or helping poor farmers to grow drought-resistant crops. Reducing the impact of natural disasters saves money, lives and livelihoods, especially in developing countries."
Published 27 November 2012