Disasters: UK medics to help in overseas emergencies
British medical personnel will help provide humanitarian assistance at short notice when disaster strikes abroad.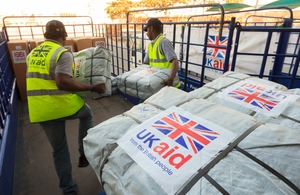 On the anniversary of the Indian Ocean tsunami which struck on Boxing Day 2004, International Development Secretary Justine Greening announced a new scheme where British medical experts will help the government to provide humanitarian assistance during disasters overseas.
Greening explained how doctors, nurses, surgeons, anaesthetists and other supporting medical, nursing and paramedical staff can now pre-register on the UK's International Emergency Trauma Register (UKIETR) to join the UK's international humanitarian response to overseas emergencies such as tsunamis, earthquakes and floods.
Justine Greening said:
The UK public has always given generously to appeals in the aftermath of natural disasters overseas. And UK expert volunteers have been there at the forefront when the world needed them: following the Indian Ocean tsunami and the earthquakes in Haiti and Japan.

Now medical personnel can sign up to the UKIETR to help after serious natural disasters. This is one way the UK can help to stop problems spiralling out of control and also helps us to develop our own disaster resilience.
The UKIETR will help to coordinate the deployment of volunteers. This will ensure personnel have the correct skills, training and experience necessary to provide safe, effective and appropriate treatment in challenging and fast-moving circumstances.
The register is designed specifically to respond to situations where surgical expertise is required and will mean that the UK provides a timely and coordinated response to rapid-onset disasters.
This adds to the government's existing capacity to deploy trained Search and Rescue experts from Britain's fire services - as seen following the Japan, New Zealand and Haiti earthquakes.
Medical charity UK Med first launched UKIETR in January 2011, and surgical team members from their register have deployed in support of NGO operations in Haiti, Libya and Tunisia. DFID and the Department of Health have worked with UK Med to incorporate the register into the UK's overseas disaster response.
DFID support for the UKIETR will see over 400 medical personnel registered and trained by 2014. 
Incorporating specialist teams to enhance the UK's humanitarian response was a recommendation of Lord Ashdown's Humanitarian Emergency Response Review (HERR) in 2010.
Published 26 December 2012