Disasters and emergencies: Media NGOs to aid UK rapid response
Thomson Reuters Foundation, BBC Media Action, International Media Support and Internews Europe have become pre-qualified partners of DFID's Rapid Response Facility.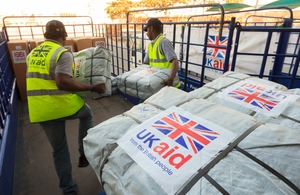 The British Government has added four media communications NGOs (non governmental organisations) to its Rapid Response Facility (RRF).
After successfully passing the application process, Thomson Reuters Foundation, BBC Media Action, International Media Support, and Internews Europe have now been pre-qualified to provide coordinated and coherent messaging in a humanitarian emergency. Providing accurate, real-time reporting during a disaster is essential to saving lives.
The NGOs will be invited to submit bids for funding where there is a clear and perceived need in a disaster response for rapid scale-up of inter-agency communications capacity and for communications with disaster-affected communities.
The RRF was established in March 2012 to improve the Government's response to larger scale or complex emergencies by:
joining up experts from the private sector and NGOs in the immediate aftermath of a disaster
providing emergency relief when major international crises hit - such as floods, famines and earthquakes.
All four agencies are already members of the CDAC (Communicating with Disaster Affected Communities) Network. Internews Europe maintains a rota of deployable communications specialists. Their roles will be to support local disaster management agencies, UN organisations and other responding NGOs to provide communications products and information such as public health, safety and other information to disaster affected communities.
Background
The RRF allows organisations with extensive experience in disaster response to access funding within hours, thereby reaching affected people faster and saving more lives. It means the best organisations from across the UK can be mobilised in the critical first 72 hours following a disaster.
Most recently, the RRF was activated in response to a cholera outbreak in Sierra Leone, committing £2 million of support for direct treatment. This funding was committed in 42 hours, allowing partners to scale up their activities quickly.
This scheme meets one of the key commitments in the UK Government's response to Lord Ashdown's Humanitarian Emergency Response Review [PDF], by establishing a facility to provide fast funding to pre-qualified organisations in the first 72 hours following an emergency.
Published 29 November 2012