Disabled soldiers ride 250 miles for Service charities
Some 30 serving and veteran disabled soldiers from the UK and USA finally reached their journey's end at the Cutty Sark in Greenwich yesterday after an epic 250-mile (400km) ride for Service charities.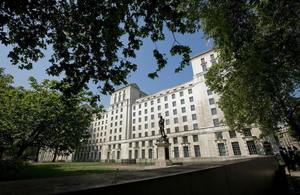 The riders, all with life-changing injuries sustained in Afghanistan and elsewhere, were cycling on specially adapted bikes in aid of BLESMA - British Limbless Ex Service Men's Association - and ABF The Soldiers' Charity.
Setting off from the Sandringham Estate six days ago, they were seen off by His Royal Highness The Duke of Edinburgh.
A collaborative effort, 'Soldier Ride', now in its second year, is the UK version of the highly successful Soldier Ride series in the US, organised by the Wounded Warrior Project and supported by President Obama.
Among the cyclists was serving Guardsman Dave Watson, from the Scots Guards, who lost both legs and an arm to an improvised explosive device (IED) in Afghanistan over two years ago.
Guardsman Watson has been in the Army for seven years. He recently returned from another disabled cycle expedition in New York:
I'm tired but elated," he said after arriving in Greenwich. "We had loads of people cheering us along the way which made it all worthwhile. We did lots of training for this but the results have made it really worth the effort.
This was echoed by 45-year-old former Fusilier Pat Provis, ex-Royal Welch Fusiliers, who was injured in South Armagh in 1987, and left the Army in 1989:
It's great to support Service charity," he said. "It's all about having a 'can do' attitude and not giving in. I've got two sons in the Army, Daniel and Anthony, both with REME [Royal Electrical and Mechanical Engineers], and my wife is ex-QARANC [Queen Alexandra's Royal Army Nursing Corps], so we are a real Service family.
Also up for the challenge was former Private Steve Gill, ex-2nd Battalion The Royal Anglian Regiment.
Private Gill, who was injured by an IED in Northern Ireland and now runs driving charity Baron Motorsports, said:
The ride's been great. It's been lots of fun working with our US colleagues and the atmosphere along the way has been incredible".
Scores of local schoolchildren were among the cheering crowds on hand to give the cyclists a heroes' welcome as they pedalled their way to journey's end at the historic Cutty Sark.
Published 12 October 2012