Director-General announces intention to move on
One of the most senior civil servants in the Department for Communities and Local Government (DCLG) today announced her intention to step down…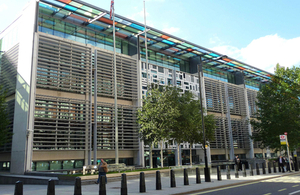 One of the most senior civil servants in the Department for Communities and Local Government (DCLG) today announced her intention to step down from her post to pursue other career opportunities.
Irene Lucas, Director-General for Local Government and Regeneration, will leave the department next March. She has agreed to stay on until then to support new Permanent Secretary Sir Bob Kerslake in implementing the changes to the department's top structure announced following last month's Comprehensive Spending Review.
Irene, who joined DCLG in September 2009 and served as Acting Permanent Secretary from June until November 2010, informed Sir Bob of her plans before he makes the changes that will see the number of Director General posts reduced from six to three. After a career in local and recently central government spanning 34 years, she plans to pursue a number of business interests.
Irene Lucas said:
I've had a fantastic year which has bridged two administrations and seen the formation of our first coalition government for generations. During that time, I've been fortunate to draw on the enormous support of colleagues in DCLG and across Whitehall as well as the network of friends and contacts in local government where I'm best known.

It was also a great privilege to act as the department's Permanent Secretary until Sir Bob's arrival at the start of this month. He has a deserved reputation for leading organisations through times of significant change and I'm looking forward to working alongside him over the next few months as we start the process of becoming a smaller but stronger department that will play a more strategic role and one able to punch its weight in Whitehall.
Sir Bob Kerslake said:
I will be very sorry to see Irene go and would have liked her to stay. However, I totally understand and respect her reasons for deciding this is the right time to move on. I am pleased that she has agreed to continue in her post until March.

Her contribution during her time here as Director-General and Acting Permanent Secretary has been immense and she has steered the department through a period of unprecedented change and structural reform while at the same time helping to deliver the incoming Government's ambitious localism programme. She will be very much missed but I wish her the very best as she embarks on the next phase of her career.
Notes to editors
Irene was Acting Permanent Secretary from June 2010 to October 2010 before the arrival of Sir Bob Kerslake as Permanent Secretary on 1 November 2010.
Irene joined the Department in September 2009. She has been responsible for Local Government Finance, Policy and Performance, and regeneration (including implementation of the sub-national review).
Prior to joining the Department, Irene was Chief Executive of South Tyneside Council from 2002. She has had a long and successful career in local government, spanning 34 years and a variety of local authorities. She is renowned for her passion for strengthening collaboration between central and local government.
Irene has held a number of public appointments including at the BBC and the Sports Council of England and has worked with the FA, Premier League, Department of Culture Media and Sport, and Sport England to redistribute television rights funding to grass roots soccer across the UK.
She was awarded a CBE in the 2008 New Years Honours List.
Twitter
Keep up to date with the Department by following us on Twitter (external link).
Media enquiries
Visit our newsroom contacts page for media enquiry contact details.
Published 11 November 2010