World news story
Direct flight to London from Chengdu, UK travel easier and faster
Chongqing Morning Post, together with its British partners, are presenting a series of events called "Discover Great Britain."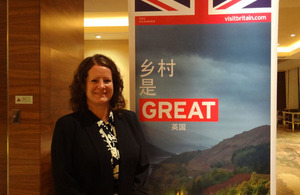 What do you imagine when you think about Britain? Our Royal Family and our love of pageantry and tradition? Iconic London landmarks like the Houses of Parliament or the Tower of London? The outstanding beauty of the Scottish Highlands or the White Cliffs of Dover? Or one of our 28 international heritage sites, such as the ancient monument of Stonehenge? Have you ever dreamed of going to those places for a visit? Now you can! From 22nd September 2013, British Airways will launch its new direct route from Chengdu to London, making it much easier and faster for people in Southwest China to travel to the UK.
To celebrate the launch of the direct flight, Chongqing Morning Post, together with British Consulate-General Chongqing, Visit Britain, British Airways, China Youth Travel Service (CYTS) and Standard Chartered Bank, are presenting a series of events called "Discover Great Britain." It brings a vivid picture of the UK for audiences and travellers through visitor testimonies, video and text.
On 6th September, "Discover Great Britain" kicked off at the Hyatt hotel in Chongqing. Simon Lever, the British Consul-General in Chongqing, representatives from Visit Britain, and UK Immigration and Visas participated in the event, introducing UK tourism and answering questions about UK visas. A local UK travel professional also spoke about his experience in the UK, giving a different perspective than people who normally travel to the UK on packaged tours. Over 100 attended, including local business stakeholders, readers of Chongqing Morning Post, and potential travellers keen to know more.
On 7th September, West China City News, together with Sichuan Tourism Bureau, co-organised a workshop to talk about UK tourism at Wanda Plaza, Chengdu Jinjiang District. Representatives from UK Immigration and Visas, Visit Britain and British Airways, were at the event explaining the highlights of UK travel brought in by the new direct flight.
Dominique Hardy, regional manager of the UK Immigration and Visa, said:
We expect 400,000 visa applications to the UK this year. It is a simple 4-step process: apply online; make an appointment; gather supporting documentation; and then attend the visa application centre. We have introduced new services, and 96% of visa applications are successful. We really welcome you to the UK!
Published 7 September 2013
Last updated 11 September 2013
+ show all updates
change the world location
Added translation