Diplomatic wreath laying ceremony at the Foreign Office memorial
Foreign Secretary William Hague spoke at the wreath laying ceremony to remember Foreign Office staff who have been killed in service.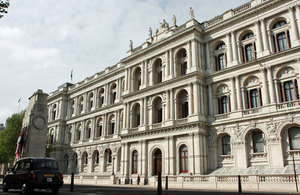 "Today, in the presence of their families, friends and colleagues, we remember eighteen brave men and women who were killed in honourable service of the United Kingdom, under the banner of the Foreign and Commonwealth Office.
They died making a difference to our country and we remember them with pride and respect, as well as with sadness.
Our Embassies are beacons of Britain overseas, and all those who work in them, in whatever capacity, help to keep our country secure, prosperous and respected.
I pay particular tribute to the families of those we honour today. They lost their relatives in unimaginably difficult and tragic circumstances, often far from home. They will always have our gratitude and respect.
Indeed the work of the Foreign Office would be impossible without the many loyal families who give support, companionship and practical assistance to their relatives in our posts all over the world. They are often unsung heroes, and I pay tribute to them.
The same is true of our excellent locally-engaged staff, who sometimes face additional risk because of their association with the United Kingdom, but who do their work proudly nonetheless.
It is a sad fact that the majority of those we remember today were killed simply because by their work, they represented this country and all it stands for.
They carried out their duties courageously until the very end despite the risks to their safety, in the highest traditions of public service and devotion to country which we all admire and strive to emulate.
They confirm by their example that the men and women of the Foreign Office are among the finest public servants it is possible for any nation to have.
On behalf of the Prime Minister, my Ministerial colleagues here in the Foreign Office and the whole of the British government, I express our deep gratitude to those we remember today, to the families who still mourn them, and to their colleagues in the Foreign Office who continue their important work."
Published 15 November 2010