DIO delivers final bed space at Culdrose
The Defence Infrastructure Organisation (DIO) has delivered the final cabin in a major project to improve accommodation for Royal Navy personnel in Cornwall.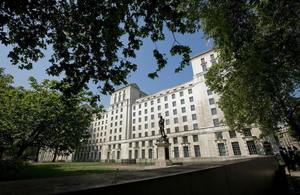 DIO's Single Living Accommodation Modernisation (SLAM) project is celebrating the delivery of the final cabin at Royal Naval Air Station (RNAS) Culdrose, which brings the overall number of bed spaces to around 1,000.
Working with industry partner Debut Services Limited, DIO has spent over seven years improving living facilities for Sailors and Junior Ranking Officers. Completing the project means single personnel at RNAS Culdrose have benefited from the delivery of three phases of three and four-storey blocks accommodating more than 950 military personnel.
Speaking about his room at Culdrose, Lieutenant Neil Edwards said:
The building is very impressive. Debut have done a superb job and finished the build to a high specification. The rooms are large and bright with plenty of storage space; it's like a home from home.
The new facilities have been produced to a very high standard, providing officers with extra space, sizable storage facilities, telephone lines and Sky TV terminals.
Lieutenant Commander (retired) Phil Wheatley, from Culdrose RNAS said:
Supporting our Armed Forces as they prepare for operations is DIO's top priority. This accommodation is a great contrast to living conditions on the front line. The improvement to living space goes a long way towards enhancing our personnel's quality of life.
Delivering improved single living accommodation plays a key role in contributing to operational success. It also demonstrates the MOD's commitment to improving the standard of accommodation for Service personnel. It is important that our military personnel have the best possible facilities.
The accommodation has been built in line with sustainability principles and achieved the 'DREAM Excellent' rating. DREAM is the MOD equivalent of BRE Environmental Assessment Method (BREEAM) - a voluntary measurement rating for green buildings.
Howard Sims, of DIO, said:
RNAS Culdrose plays a key role in supplying highly capable helicopter squadrons which contribute to operational success. It is important that Culdrose's personnel have the best possible facilities.

This project was delivered on time and to cost and provides top quality living accommodation at this important naval air station. The standard of the finished building and external areas is a credit to the project team.
Published 10 August 2012