DIO delivers critical rehabilitation facilities to Royal Marines
The Defence Infrastructure Organisation (DIO) has completed a new Physical and Remedial Training Centre for 40 Commando Royal Marines (40 Cdo RM ) at Norton Manor Camp in Somerset.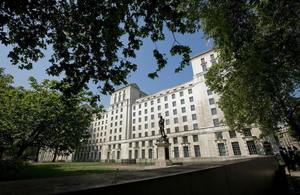 Sarawak Gym, named in recognition of 40 Commando's involvement in the Indonesia-Malaysia Confrontation from 1962 to 1966, was opened at an official ceremony by Lieutenant Colonel Matt Jackson Royal Marines, Commanding Officer 40 Commando Royal Marines.
The new building was delivered by DIO working with regional industry partner Debut Services (South West) Limited, and will provide essential modern sports facilities to support the physical wellbeing of unit personnel.
Also housed within the new building is a dedicated remedial suite to support the rehabilitation of injured Marines returning from overseas operations as well as those injured through the day to day rigours of training in the UK. These amenities replace the old facilities housed in a drill shed dating from the 1940s, built during the Second Word War.
Positioned adjacent to the Medical and Dental Centre, also delivered by DIO and Debut in 2009, the new facilities will greatly improve efficiency and support provided to service personnel, allowing a speedy recovery back to operational fitness. This will in turn help improve the operational capability of 40 Cdo RM.
Lieutenant Colonel Jackson, Commanding Officer 40 Cdo RM said:
This is a superb facility. 40 Commando, DIO and Debut have worked as a dedicated team to design and deliver a gymnasium from which all personnel serving at the Unit will benefit for many years to come. I am extremely pleased with the result.
The new facilities incorporate a gym/rehabilitation area; sauna; first aid room; passenger lift; main hall, with an indoor climbing wall, electronic score board and instructional gallery; a combat training area, with soft landing floor suitable for contact/combat sports; fitness training room; squash courts; sufficient storage for equipment; changing rooms, showers and toilets; laundry room and offices.
Sandra Dickie, Navy Command Infrastructure Capability Manager for the project stated:
This new building funded by the Royal Navy provides the Royal Marines Norton Manor Camp with a first class modern up to date complex, equipped to a high standard. It gives personnel at the establishment excellent training, rehabilitation and recreational facilities

These facilities will be a great asset in assisting fitness and maintaining personnel well being and morale. Whilst only joining the project mid way through its development it has been a pleasure to be part of a team which has very successfully ensured delivery of this fine new building.
The new building will provide enhanced environmental performance, through the incorporation of a number of sustainable technologies, including: sun tubes, to provide daylight to circulation and deep plan changing areas; solar thermal panels to provide hot water to the changing facilities and wind-catchers, to provide natural ventilation to the two storey element and deep plan single storey areas. Excavated materials were re-used within the construction, and soft landscaping scheme.
Emily Simmons, DIO Project Manager commented:
The design accommodates an essential piece of equipment for the rehabilitation of injured personnel, an anti-gravity treadmill, donated to the Unit by Help for Heroes.

This patented NASA technology allows for precise partial weight bearing that enables rehabilitation of lower extremity injuries by using air in a pressure-controlled chamber to gently lift the user, which decreases pressure on injured joints and protects healing tissue.
Paul Nix, Debut and Lend Lease Core Works Director, added:
I am extremely proud of our project team as they have yet again successfully delivered an essential facility for the Royal Marines. We have built a strong relationship with DIO's site estate team at Norton Manor Camp and I was delighted that Lend Lease was also able to assist by donating funds to ensure that a vital piece of equipment was moved across to the new facilities.
Published 20 July 2012