DIO and Woodland Trust continue planting partnership
Defence Infrastructure Organisation (DIO) and The Woodland Trust (WT) are teaming up with soldiers at the Prince William of Gloucester Barracks in Grantham to begin planting woodland which will help train our Armed Forces and mark The Queen's Diamond Jubilee.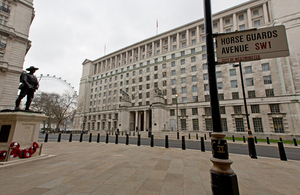 As part of an ongoing partnership between the WT and DIO, staff from the charity's nearby head office are joining forces with troops based at the Barracks to plant the first 2,000 of a total 84,000 native saplings, which will grow into a 70 hectare woodland.
Part of the Jubilee Woods project marking The Queen's Diamond Jubilee in 2012, the woodland will also provide valuable forest cover for military training exercises. Local residents will be invited to plant trees later in the year.
Speaking about the project, Georgina McLeod, Head of Diamond Woods at the Woodland Trust said:
It's great that we've been able to work with DIO and Prince William of Gloucester Barracks to ensure that we have a Diamond Wood at the home of the Woodland Trust. We hope people in Grantham will get involved in the creation of the wood in the coming months.
The Diamond Wood initiative is part of a larger project being undertaken by DIO and WT which could see thousands of hectares of woodland planted to help British soldiers train more effectively for military operations, whilst helping to double the UK's woodland cover. This began with 176,000 trees being planted at the Defence Training Estate (DTE) range at Warcop in Cumbria last year.
DIO Deputy Chief Executive David Olney said:
We're delighted to continue our partnership with the Woodland Trust and respond to military training needs in providing woodland cover to benefit soldiers preparing for operations.

This excellent initiative at Grantham allows us to continue to improve training facilities, whilst securing significant conservation and environmental benefits at no extra cost to the MOD. It also provides a magnificent and enduring celebration of The Queen's Diamond Jubilee.
Published 12 March 2012