Press release
Digital Government to secure Britain in the global race
The government has unveiled the list of the first wave of public services which it will digitalise by 2015.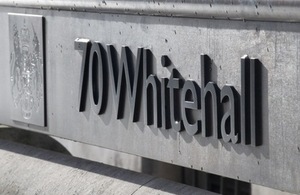 21 December 2012
CAB 133-12
The government has unveiled the list of the first wave of public services which it will digitalise by 2015, the Minister for the Cabinet Office, Francis Maude, announced today. The new digital services will give the public the quicker and more convenient services suited for the 21st century, and will save taxpayers up to £1.2 billion by 2015 and around £1.7 billion a year thereafter.
To ensure the Civil Service can meet the rising expectations of the public, and deliver public services more cheaply and effectively, the government has embraced a digital-by-default agenda. The first wave of services to go online includes tax assessment and applications for visas, apprenticeships and pensions. This is another step towards ensuring we have an exceptional Civil Service delivering the best for Britain.
Every single year, the government handles over a billion different transactions across 650 different services. This announcement is good news for users of public services, for taxpayers, for civil servants and for business. Digital services can be 20 times cheaper than doing the same thing by phone, 30 times compared to post, and 50 versus a face-to-face transaction.
Minister for the Cabinet Office Francis Maude said:
Britain is in a global race, and as the world has changed so must the Civil Service. In the past, online services from the government were woefully worse than those offered by the private sector.

That's why as we reform the Civil Service we are embracing a digital-by-default agenda to deliver the very best for Britain.

Today we've set out exactly how we will make it easier for people to do things like apply for pensions and car tax online. As a result we will save people time, money and stress - while making the taxpayer savings in excess of a billion pounds and setting Britain up as a world leader.

Like the best businesses, we will deliver services online whenever possible, to cut costs and put our customers in control. Members of the public will be able to access our information and services when it's convenient to them. It will be these modern, digital-by-default public services - delivered by an exceptional Civil Service - that will give the British people the 21st-century government they deserve.
The new digital services announced today include:
National Apprenticeship Service - candidates will be able to search more easily for vacancies and apply online, while employers will be able to advertise vacancies and identify suitable candidates;
Tax self-assessment - as people prepare for the deadline to complete their returns, the government has announced plans for a new, and for the first time entirely online, service that will make it easier to make tax returns;
Disclosure and Barring Service (DBS) checks - in the year that volunteering received the recognition it deserves, plans for a more straightforward online applications process for DBS is unveiled to make it easier for people to volunteer; and
Intellectual Property - entrepreneurs and businesses of all sizes will be able to register, track and manage patents and trade-marks and designs more swiftly and straightforwardly online with the Intellectual Property Office.
For members of the public, these changes mean they can access essential services at a time of their choosing, more quickly and at less personal cost. A 2012 study estimated that the cost of contact for face to face transactions averages £8.62, for phone £2.83, but for web only 15 pence.
The government's digital strategy is a key part of ongoing reforms to the Civil Service. The progress made in delivering a government that is digital by default is the result of civil servants across departments embracing new ways of working and acting as one. Civil servants are now working side-by-side with software developers, content editors and designers using open source digital version control systems.
No-one will be left behind in this digital revolution. The government wants every single government service to be available to everyone. We are digital by default but services will remain available to those who can't go online themselves through assisted digital.
Notes to editors
The departmental Digital Strategies and the government approach to Assisted Digital - along with the Digital Strategy published in November - can be found here: www.gov.uk/digitalstrategy
There is a huge volume of transactions with government. There were around 1 billion individual transactions a year with central government departments in 2011/12. This number rises to nearer 1.5 billion when other governmental organisations such as local government are taken into account. These transactions are not evenly spread across departments, with just 7 responsible for around 90% of the central government transactions. These are HMRC, DfT, DWP, BIS, DEFRA, MoJ, and the Home Office.
The government provides more than 650 transactional services, used about 1 billion times every year - but presently there are only a handful where a large majority of people who could use the online option do so.
The new services announced today follow the successful launch last month of a single domain for government, GOV.UK, which brings all departments' websites into one place and makes accessing government information simpler, clearer and faster for citizens and business.
The 2012 SOCITM study can be found here.
The Government Digital Service (GDS) was set up within the Cabinet Office to deliver world-class digital products that meet people's needs and offer better value for taxpayers' money. For more information about GDS, visit http://digital.cabinetoffice.gov.uk/
The Civil Service Reform Plan set out a series of practical actions which will help make central government smaller, faster, more unified, more accountable for delivery, more commercially capable and more digital. It can be found at www.civilservice.gov.uk/reform
Taxpayers' are currently spending an estimated £4 billion each year on providing non-digital transactions - such as by telephone or post. By putting everyday transactions online, the government will deliver savings of £1.2 billion by 2015. On the basis of historical savings achieved by existing digital services we estimate that £1.7 to £1.8 billion of total annual savings could be made by shifting the transactional services offered by central government departments from offline to digital channels. Of this, £1.1 to £1.3 billion will be saved directly by the government, with the rest passed on to service users through lower prices. These figures do not include the potential costs of a transition to digital, but also do not include the additional savings that could be gained from fundamental service redesign or back-end technology changes.
Digitising transactional services will save people and businesses time and money; by making transactions faster, reducing the number of failed transactions and simplifying the end-to-end process. Our estimates suggest that an hour spent interacting with government costs the average citizen £14.70. If just half an hour were saved by digitising every transaction currently completed offline, the total savings to the economy could therefore be around £1.8 billion. Furthermore, many public services are run by agencies that recover their costs directly through user charges, so reducing costs provides the potential for savings to be passed on to users.
Published 21 December 2012