News story
Diamond Jubilee medal announced
Police will be eligible to receive award marking the Queen's sixtieth anniversary on throne.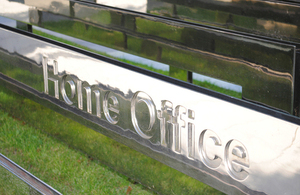 The design of the medal to mark the Queen's Diamond Jubilee was unveiled by culture secretary Jeremy Hunt today.
It will be awarded to those who work in the armed forces, emergency services and prison service, among others, to celebrate those who dedicate their lives to the public good.
Invaluable contribution
The Home Secretary said that the medal would recognise the invaluable contribution of police officers and police community support officers.
'The police do an extremely challenging job, often putting themselves in harm's way to keep the public safe,' said Theresa May.
 
'This medal is a well-deserved award which recognises the invaluable contribution made by individuals on a daily basis.'
Silver service
Made of nickel silver, the medal has been designed by professional calligrapher and illuminator, Timothy Noad.
The Home Office will issue detailed qualifying criteria applying to police later this summer.
You can find full details about who is eligible for the medal on the Department for Media Culture and Sport website.
Published 28 June 2011