News story
DFID Research: WFSJ seeks new Executive Director
The World Federation of Science Journalists is currently looking to recruit a new Executive Director. The deadline for applications is the 15th April.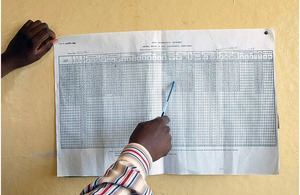 The World Federation of Science Journalists (WFSJ) is an international federation of 44 national associations of science and technology journalists from Africa, the Americas, Asia, and Europe and two associate members. It is a non-profit corporation and the leading actor in making science journalism a strong contributor to better informed and democratic societies.
DFID works with WFSJ through Consolidating Science Journalism in Africa and the Middle East (SjCOOP), a project which is now in its second phase. Providing training and mentors for journalists in these regions, the project aims to consolidate relationships between journalistic communities and establish key narratives around how the media impacts upon policy. In projects such as this one, WFSJ provides a backbone of support through international networks of science journalists. Drawing together professionals from both hemispheres it provides a platform for learning and dialogue around the importance of media in research.
The WFSJ is currently looking to recruit an experienced and dynamic Executive Director to provide day to day leadership for the Federation's secretariat and oversee major international projects. The Executive Director works closely with the Board to make the Federation operationally and financially sustainable. The organisation is looking for an exceptional individual who will develop and implement a comprehensive vision of the role of science journalism in societies, internationally. Candidates need to be world class managers with experience in journalism or communication able to deliver strategic leadership, ensure organisational effectiveness, and guarantee effective financial management in order to maintain the long-term sustainability of the Federation.
The director is expected to bring a strong set of practical ideas and skills to ensure programme excellence, revenue diversification, good connection with membership, as well as an effective communication strategy for the Federation. Necessary requirements include:
A university degree
At least five years managerial experience
Experience in journalism, media, or communication
A proven track record in setting organizational goals and operational plans and achieving them
Solid experience in recruiting and managing employees, volunteers and consultants
Experience in budget preparation and financial management and reporting
Outstanding interpersonal skills and ability to work in a multi-cultural and multi-national environment
The ability to represent the organization effectively in a wide range of fora
Cutting edge creative and strategic thinking and capacity to inspire others
Preferably experience in international activities, projects, or events
The position is based in Canada but travelling overseas is required. For a full job description visit the WFSJ website here.
Applicants are required to send a letter of application, before the 15th April 2013, to hr@wfsj.org. Applicants should state their skills and outline an approach to meeting the 10 requirements listed above. The letter should also include a vision of the future for the Federation. Applications should be accompanied by a CV/resume in English, without photos.
All applications should be sent as Word documents with the title 'applicant's name Resume'. Emails should have 'WFSJ Executive Director' in the subject line.
Published 25 March 2013