DFID research: UKCDS Town Hall meeting: Health research for international development
The first of a yearlong programme of 'Town Hall' meetings, run by UKCDS.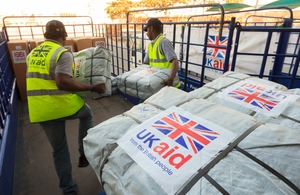 Over the coming year, the UK Collaborative on Development Sciences (UKCDS) will be hosting a series of themed 'Town Hall' meetings, to raise awareness of funding opportunities for researchers.
UKCDS is made up of fourteen member organisations, including DFID. All members facilitate research focused on development with existing research projects including studies on agriculture, low-carbon energy and infectious diseases.
By encouraging communication and effective working partnerships between organisations, UKCDS aims to improve stakeholder collaboration in development sciences in order to maximise the impact of UK research funding on global development outcomes.
There are regular calls for proposals in specific areas of research on the UKCDS website but funding is also available through responsive mode. Responsive mode funding supports excellent research in response to new ideas from research groups or individuals. Proposals can be submitted at any time, for any type of research within a particular council's remit.
With different funding processes and different stakeholders involved, these meetings aim to dispel existing confusion around UK development research funding by allowing direct engagement between the funders and researchers.
On the 4th December 2012 the first 'Town Hall' meeting will be held at the Wellcome Trust, Gibbs Building in London. Exploring health research funding relevant to international development the meeting will bring together representatives from DFID, the Wellcome Trust, the Medical Research Council and the Bill and Melinda Gates Foundation to explain which topics are at the top of their agendas and alert the audience to upcoming funding opportunities.
The meeting will incorporate a Q & A session to allow researchers an opportunity to ask questions on funding strategies, priorities and commissioning processes work in an effort to provide greater transparency.
The meeting will aim to:
Explain how funders determine their funding strategies and priorities, their commissioning processes and to alert the audience of funding opportunities in the pipeline.
Encourage a constructive two-way dialogue between funders and researchers to improve bidding and procurement processes. 
Well-informed funders and researchers will be a key outcome of this meeting, thus improving the quality of research specifications and tenders and ultimately the delivery and impact of projects and programmes. 
The meeting is open to any senior health researcher interested in international development and will provide attendees with the opportunity to network and to engage in dialogue with the funders. There are 70 places available, which will be allocated on a first come first served basis.
To attend, first register with UKCDS by emailing Angela May, a.may@ukcds.org.uk, to confirm a place.
Information from the day will be posted on the UKCDS website.
Published 16 November 2012