DFID research: The poorest people in the poorest countries? A prediction of where the world's poor will live in 2030
In Focus Policy Briefing suggests that the demographic shift in global poverty means that demand for "traditional aid" could lessen.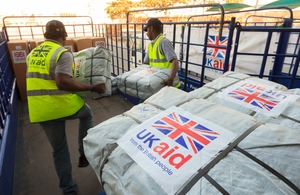 A new In Focus Policy Briefing by Andy Sumner, suggests that the demographic shift in global poverty means that demand for "traditional aid" could lessen as poverty becomes a domestic issue of national inequality.
Following an Institute of Development Studies (IDS) working paper published in June 2012, From Deprivation to Distribution: Is Global Poverty Becoming A Matter of National Inequality?, Andy Sumner has summarised some of his research findings for a new publication: Where will the world's poor live? Global poverty projections for 2020 and 2030.
Sumner highlights the potential significance of the shift in poverty distribution from low income countries (LICs) to Middle income Countries (MICs) and Low Middle Income Countries (LMICs). The rise of transitional countries from LIC to MIC over the last decade informs Sumner's predictions for the rise in the proportion of global poverty located in MICs.
Paul Collier identified this issue of divergence in his best-selling book, The Bottom Billion: Why the poorest countries are failing and what can be done about It, in 2007. In his lecture at the London School of Economics in 2007, Collier pointed out that over the last 10- 15 years there has been an unprecedented process of divergence between developing countries. While Collier focuses on the billion living in what he terms the "stagnant" LICs he highlights the need for a development of different methods when tackling the issues of poverty in newly developed MICs.
In his newly published research, Sumner argues that this redistribution may create a need to reframe the concept of "global poverty". His research points out that currently 80% of the world's $2 poor live in MICs. He asserts that contrary to current predictions it is possible that by 2030 only one third of the world's poor will be living in LICs due to the expected transformation of many of today's LICs into MICs within the next decade.
In his report Sumner considers whether middle-income poverty is transitory. Arguing that international aid may become less appropriate as poverty resides in countries with rapid economic growth, Sumner highlights that growth is not in itself a solution. If, as he points out, the poor remain disconnected and disenfranchised within emerging MICs then national inequality could become entrenched. He highlights the need to work with policymakers within MICs to combat this potential segregation and suggests five actions:
Develop a new joint focus on the chronic, long-term poor wherever they live and a new joint priority of ensuring the benefits of growth and public spending are more equitably distributed;
Focus new joint resources to support the building of domestic taxation systems, and the regulation of tax havens and untaxed capital flight from MICs;
Support inclusive policy processes with the poor by donor government joint working with civil society in MICs;
Co-finance global public goods including knowledge sharing on public policy between MICs and LICs;
Ensure coherence across donors' development policies such as trade and migration.
Looking at the cost of poverty reduction to MICs and LMICs Sumner suggests that concessional aid will still be effective in many LICs predicted to be MICs by 2030. He recommends a change in approach to understanding extreme global poverty.
Sumner acknowledges that predictions of global poverty distribution are based on assumptions and can therefore be illustrations of a possible future. However as economic growth continues to accelerate in some developing countries, the prediction that two thirds of the world's poor will live in MICs by 2030 could still be a significant understatement.
Published 6 September 2012