DFID research: Snapshots of a changing landscape- CDKN in Asia
Series of Country snapshots profiling the achievements of the programme across Asia in the last quarter.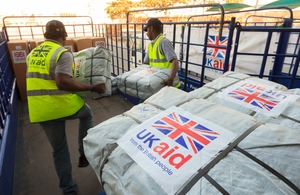 This month the Climate and Development Knowledge Network released a series of Country snapshots profiling the achievements of the programme across Asia in the last quarter.
Currently scheduled to continue until 2015 CDKN is a DFID funded programme which aims to develop access, use and understanding of global research into climate change within developing countries by offering knowledge management, research analysis and advisory services.
With a strong focus on strengthening capacity and providing the basis for firm partnerships between developing countries and their researchers, the new documents summarise the progress of research and its impact on policy and practice. These reports provide overviews designed to demonstrate best practices to policy makers and practitioners.
The snapshots focus on five different regions:
The documents profile the success of regional initiatives, highlighting how, by providing advisory services, resources and training, projects have enabled Governments, policymakers and stakeholders to engage in participatory decision making, bringing climate change negotiations into the mainstream. In some cases, such as Bangladesh, the reports illustrate how CDKN supported projects have enabled state governments to contribute to recent UNFCCC discussions.
CDKN places a strong emphasis on the development of effective learning communities and knowledge sharing. The documents highlight progress in these areas describing ventures such as the PANOS fellowship, in South Asia, which held interactive forums for journalists and editors to discuss how to move climate change into the news.  
South-South learning initiatives are also evidenced with reports that a new Monitoring and Evaluation tool developed by Action-Research on Community Based Adaptation Bangladesh (ARCAB) has now been adopted by partners in Africa with the Africa Climate Change Resilience Alliance (ACCRA) incorporating aspects of the tool within their log-frame.
From gender and inclusivity in India to economic impact in Nepal, the snapshots outline the achievements of various projects across the five regions:
The Loss and Damage in Vulnerable Countries Initiative in Bangladesh produced case studies that received wide coverage at COP18

Nepal Climate Change Knowledge Management Centre (NCCKMC) raised its profile among stakeholders through hosting workshops on knowledge packaging and policy dialogues
Promoting low-carbon construction in rural India is a CDKN project working with Development Alternatives (DA) and the State Governments of Orissa, Madhya Pradesh and Himachal Pradesh to integrate climate concerns into construction projects and roll out training modules for workers
Sustainable urban tourism through low carbon initiatives currently operates in the cities of Hue, Viet Nam, and Chiang Mai, Thailand. CDKN highlights the emerging benefits of city-to-city learning facilitated by this cross-country study
Discussions on local construction bye-laws have been spurred into action via the CDKN project on Supporting climate resilient construction in vulnerable areas in the Punjab, designed to help the Provincial Disaster Management Authority (PDMA) develop climate compatible construction
These snapshots offer a broad overview of the issues around climate change currently being explored within each region. However, as a series, these documents provide a critical insight into the widening relationships between development communities in Asia and illustrate the different challenges and solutions being discovered and shared.
For more stories on initiatives supported by CDKN see their inside stories.
Published 17 December 2012