DFID research: Safeguarding the Future of Rural Livelihoods: World's first environmental health index
A project supported by the ESPA has produced the world's first environmental health index to be based on long term historical data.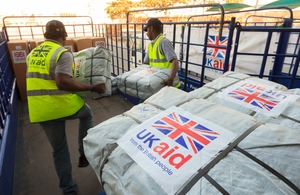 The valuing of ecosystem services such as food, fuel and clean water is currently high on the international agenda - it was highlighted at the World Bank's recent Annual Meeting, and it is a major priority for the forthcoming Rio+20 UN Conference on Sustainable Development.
So it is timely that a project supported by the Ecosystem Services for Poverty Alleviation Programme (ESPA) has produced the world's first environmental health index to be based on long term historical data. This week's announcement raises hopes the work could be used to help safeguard the future of rural livelihoods across the developing world.
The at-a-glance indicator, akin to the financial world's Dow Jones Index, combines trends from six ecological 'stocks', and could one day alert policymakers when those ecosystem services vital for human wellbeing come under threat.
The DFID co-funded project, the results from which are published as an open access article in the prestigious Proceedings of the National Academy of Sciences, tracked the progress of key environmental services - such as soil stability and air and water quality -over the last 200 years and matched their fate against key points of social, political and economic change, including periods of industrialisation, reforestation and agricultural intensification.
This comparison helps to distinguish natural from man-made impacts, thereby clarifying the links between development and environmental change.
The team of UK and Chinese-based researchers behind the study suggest the greater understanding derived from their analyses could be used to help guide rural development policies that produce both sustainable development and environmental goals.
The ESPA programme has already funded more work to apply the new index in Bangladesh, and according to ESPA Director Professor Paul van Gardingen, this ground breaking study will also be followed up with several other world-class papers that will be published within the next year.
"This study is an excellent example of the world-class research being generated by ESPA," he said. "It clearly demonstrates the on-going benefits of the funding partnership between DFID, NERC and ESRC that is supporting international teams of world-leading researchers to generate new, exciting, interdisciplinary research evidence as a global public good."
Using data derived from sediment cores taken from lakes in China's lower Yangtze basin, the team showed how 40 years of population growth, intensifying agriculture, and greater industrialisation has led to a halving of this combined 'regulating services index'.
Headline findings such as these are a clear signal to government, NGOs and the media that efforts to create more wealth in the region have imperilled the resource base sustaining local livelihoods.
In addition, more detailed consideration of the findings provides information important to resource managers.  For example, former biodiversity losses recovered and stabilised thanks to China's reforestation policies of the 1980s and 1990s.
In contrast, a drastic fall in water quality linked to increased fertilizer usage since the mid-20th century was uncovered. Levels dropped by two-thirds in 40 years and suggests that the lakes studied may have already crossed a threshold of irreversible damage.
The researchers hope their methods could be used for similar assessments around the world and the team is currently building models that will let developing-world analysts enter in their own local long-term data.
To make the results even more accessible to policymakers and local leaders, the group is developing a Google Earth application and animated graphs to help decision makers easily visualise such changes.
"ESPA's policy of promoting open access to our best research means that there are no barriers to knowledge, which is especially important to practitioners and policy makers in the developing world," said Professor van Gardingen.
The ESPA Directorate is working to ensure that lessons learnt in China are used to benefit poor people in other regions, he added, such as low-income countries in Africa and South Asia.
DFID meanwhile is also supporting the related Wealth Accounting and Valuation of Ecosystem Services programme (facilitated by the World Bank) and the Poverty Environment Initiative (Hosted by UNDP and UNEP).  All three programmes will come together in the immediate lead-up to Rio+20 to discuss the importance of ecosystem services for poverty alleviation as part of the IIED hosted 'Fair ideas' event.
Published 30 April 2012