DFID research: Rewarding Innovation: The 2012 Global Development Awards and Medals
The 2012 Global Development Awards and Medals Competition is now open for applications.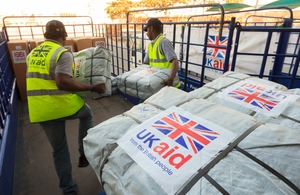 The 2012 Global Development Awards and Medals Competition is now open for applications.
The competition is run by the Global Development Network (GDN), an international organisation which supports research in economics and social sciences in developing countries. With support from DFID, GDN aims to build research capacity and facilitate better communication between researchers and institutes within the global community.
Launched by GDN in 2000, the Global Development Awards and Medals competition celebrates innovation and academic excellence in development research. It invites researchers and organizations from developing and transition countries to submit research proposals, completed research papers and proposals for scaling-up development projects.
Supported by the Government of Japan, the scheme has provided over three million US dollars in research and travel grants over the last twelve years.
The awards support multi-disciplinary research in a range of areas and look to reward innovative approaches to existing development needs.
The competition is comprised of three categories:
Category 1: Japanese Award for Most Innovative Development Project (MIDP)
Category 2: Japanese Award for Outstanding Research on Development (ORD)
Category 3: Medals for Research on Development (Medals)
Categories 2 and 3 request that applicants are under 45 years old and that all submissions fall under one of three themes:
Inequality
Social Protection and Social Policies
Inclusive Growth
The GDN Awards and Medals competition allows younger researchers an opportunity not only to fund their project but to showcase innovative ideas. Finalists will submit their proposals to a jury at the GDN's 14th Global Development Conference; an event attended by over 500 practitioners in the field of development.
For further information on eligibility criteria and **to apply visit the GDN website **here. To hear previous winners describe the benefits of the scheme watch the Global Development Awards video.
The application deadline for all categories is the 11th March (6pm Indian standard time).
Published 18 January 2013