DFID research: Research to Action launched alongside 3ie PIM workshop in Cornwall
Official launch of Research to Action; a website designed to provide relevant and up to date resources on research engagement and uptake.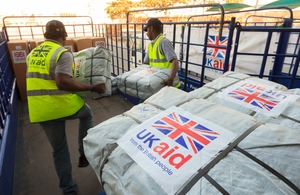 This week saw a meeting of international delegates involved in the Policy Influence Monitoring (PIM) project, funded by the International Initiative for Impact Evaluation (3ie), in Cornwall. To coincide with this, a workshop was held on the Tuesday followed by the official launch of Research to Action; a website designed to provide relevant and up to date resources on research engagement and uptake.
The 3ie PIM project is a three year global venture designed to monitor and evaluate the policy influence of independent evaluations being conducted across Africa, Latin America and South East Asia. The project is committed to supporting the grantees in order to maximise the value and impact of the Impact Evaluations.
On Tuesday the 25th of September delegates from the meeting, as well as individuals from organisations such as the Overseas Development Institute (ODI), CABI, the Centre for Poverty Analysis (CEPA) and the Centre for the Implementation of Public Policies promoting Equity and Growth (CIPPEC), and academics involved in research and policy in the UK met for a workshop held at the Academy for Innovation and Research at University College Falmouth in Cornwall.
Participants were asked to consider and discuss what constitutes policy influence and how it can be measured effectively. Through group discussions three clear considerations emerged as key in successful policy monitoring:
1.       Demand- seeing research in a political context; understanding existing demand and developing strategies for eliciting demand
2.       Attribution- establishing means of clearly attributing policy influence to particular research via testimonials, media pathways and altmetrics
3.       The Value of Policy Influence- considering whether policy change should always be the desired outcome of research
The afternoon workshop was followed by the official launch of the website Research to Action (R2A). R2A caters for the strategic and practical needs of people trying to improve the uptake of development research, in particular those funded by DFID. Populated with material useful to development researchers in designing tactical and effective communication strategies, R2A provides access to resources across the internet as well as hosting original content from contributing authors from organisations such as the International Network for the Availability of Scientific Publications (INASP), ODI and Euforic Services.
Andrew Clappison, communications manager at CommsConsult, thanked CABI, Euforic Services and CommsConsult,  for their help and continued support in setting up the website. R2A aims to be a platform where knowledge around research communication can be exchanged effectively. Clappison pointed out:
"Research to Action will not be a success without the support of the wider development community. We are all working towards similar goals and we need to unite around initiatives like this to ensure that they meet their potential. The Research to Action door is very much open to everyone."
The website provides a space where discussions, like the one which took place on Tuesday, can progress and develop and it actively encourages participatory engagement from its users.
For more on Tuesday's workshop discussion, and to join in, follow #3iePIM on twitter.
Published 28 September 2012