DFID research: New treatment for tuberculosis a step closer as REMox trial completes enrolment
New treatment for tuberculosis a step closer as REMox trial completes enrolment.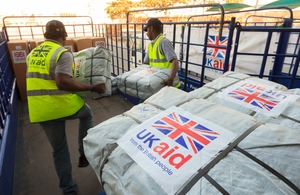 On the 1st February 2012, The Global Alliance for TB Drug Development (TB Alliance announced the completion of patient enrolment in REMox TB, a global clinical trial, which may result in the registration of the first new drug approved for the treatment of drug-sensitive TB in nearly 50 years.
TB is a major infectious cause of death worldwide, second only to HIV and AIDS. About 90% of TB and TB-related deaths occur in low-income countries.  Existing therapy has serious shortcomings that limit its ability to adequately address the disease. Improved therapies would save millions of lives by increasing compliance, speeding time to cure and overcoming resistance.
The REMox TB trial was funded by the United Kingdom Department for International Development (DFID), the Bill & Melinda Gates Foundation, the European and Developing Countries Clinical Trials Partnership (EDCTP), Irish Aid, and the United States Agency for International Development (USAID). TB Alliance is a not-for-profit organisation dedicated to finding faster-acting and affordable drug regimens to fight tuberculosis.
REMox TB was designed to test whether a moxifloxacin-containing treatment regimen of just four months can cure drug-sensitive TB patients at rates that are non-inferior to those achieved with the standard six-month TB regimen.  In total, more than 1,900 patients were enrolled in REMox TB.
Initiated in 2008 by the TB Alliance, Bayer HealthCare, University College London, University of St Andrews and the United Kingdom Medical Research Council, REMox TB has helped increase capacity for clinical TB drug research in three continents, strengthened ties between researchers and local communities through its associated Community Engagement Program, and built bridges with the HIV research community through its use of United States National institutes of Health (NIH) AIDS Clinical Trial Group (ACTG) clinical trial sites.
For more information and to read accounts of the various partners' participation in REMox TB see the TB Alliance website.
Published 8 February 2012