DFID research: New ILRI Study Maps Hotspots of Human-Animal Infectious Diseases
A new study maps hotspots of human-animal infectious diseases and emerging disease outbreaks.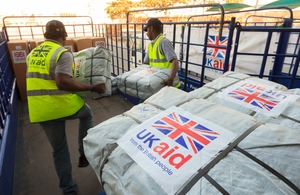 A new study maps hotspots of human-animal infectious diseases and emerging disease outbreaks. The maps reveal the extent of zoonotic diseases - i.e. diseases such as rabies, anthrax, or ringworm that can be transmitted from vertebrate animals to humans - and presents a 'top 20? list of geographical hotspots.
Animal-borne diseases pose a heavy burden for one billion of the world's poor: an estimated one-third of global diarrheal disease is thought to have zoonotic causes. The study, which was conducted by the International Livestock Research Institute (ILRI), the Institute of Zoology (UK) and the Hanoi School of Public Health in Vietnam, maps poverty, livestock-keeping and the diseases humans get from animals. It aimed to identify areas where better control of zoonotic diseases would most benefit poor people.
All zoonoses are not equal and a first step of the study was to categorise zoonoses according to epidemiology and impact. Three groups were considered:
Endemic zoonoses are present in many places and affect many people and animals.
Outbreak or epidemic zoonoses are sporadic in temporal and spatial distribution.
Emerging zoonoses newly appear in a population or have existed previously but are rapidly increasing in incidence or geographical range. Many occur as outbreaks.
The researchers initially reviewed 56 zoonoses that together are responsible for around 2.5 billion cases of human illness and 2.7 million human deaths per year. A more detailed study was made of the 13 zoonoses identified as most important, based on analysis of 1,000 surveys covering more than 10 million people, six million animals and 6,000 food or environment samples.
The analysis found high levels of infection with these zoonoses among livestock in poor countries. For example, 27 per cent of livestock in developing countries showed signs of current or past infection with bacterial food-borne disease - a source of food contamination and widespread illness. The researchers attribute at least one-third of global diarrheal disease to zoonotic causes, and find this disease to be the biggest zoonotic threat to public health.
A report of the study, Mapping of Poverty and Likely Zoonoses Hotspots, was developed with support from DFID. And can be downloaded as a PDF from the R4D Document Record.
Published 11 July 2012