News story
DFID Research: Joint Global Health Trials scheme-fourth call for proposals
The Global Health Trials Scheme is looking for new proposals that help tackle the major causes of mortality and morbidity in the developing world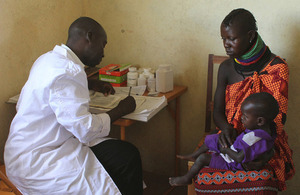 The UK Department for International Development, the Medical Research Council and the Wellcome Trust recently announced the launch of the fourth call for proposals under the Joint Global Health Trials scheme.
The purpose of this scheme is to provide funding for the best proposals to generate new knowledge about interventions that will contribute to the improvement of health in low and middle-income countries. A total of £15 million is available. This amount is expected to fund several awards.
The programme will give priority to proposals that are likely to produce implementable results and that are designed to address the major causes of mortality or morbidity in low and middle income countries.
The scope of the scheme encompasses interventions of all kinds, including, but not limited to, behavioural interventions, complex interventions, disease management, drugs, vaccines, hygiene and diagnostic strategies.
The Medical Research Council outlines a number of issues which should be considered when compiling a proposal:
Results of research should be implementable

Interventions should be appropriate, acceptable and applicable to their target populations and social, cultural and economic barriers to uptake should be examined

Strong partnership links with institutions and policy makers in low and middle income countries should be considered when designing a consortia, as they will be important to the long-term impact of the research

Proposed trials should, as far as it is practicable, be fully developed and costed before they are allowed to start

The scheme aims to promote interventions with a significant potential impact
Support is conditional on the host institution being able to demonstrate that they are able to conduct the trial to the standards set out in the MRC guidelines for good clinical practice in clinical trials. Under this scheme it is expected that the host institute will be the sponsor of the trial.
The scheme is targeted at trials led by academic groups, and not those led by commercial companies or product development partnerships (PDPs). However, applications are welcome from investigators from academic institutions who wish to collaborate with commercial companies or PDPs.
Studies should be based in low and middle-income countries. Preference will be given to those based in the following regions: Sub-Saharan Africa, South Asia and East Asia and the Pacific. The scheme also encourages Principal Investigators from these regions.
Applicants are asked to submit an outline proposal in the first instance using the UK Research Councils' Joint electronic Submission System (Je-S).
All outline proposals should be submitted before 16:00 BST on the 1st October 2013.
For further information and to apply visit the Medical Research Council's funding opportunities page.
Published 18 July 2013