DFID research: International Migrants day: Understanding the whys
Working paper produced earlier this year, by the research programme consortium Migrating Out of Poverty, looks at the causes of migration.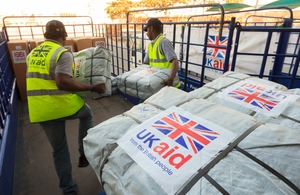 Yesterday, the 18th December, was International Migrants day. This day was appointed in 2000 to mark the adoption of the international convention on the protection of the rights of migrant workers and members of their families (resolution 45/158) by the General Assembly on this date in 1990.
In a special message yesterday, Ban Ki Moon highlighted how the global economic downturn has had negative impacts on attitudes towards migrant communities. Using the day as an opportunity to focus upon those groups, he called for more recognition of the social contributions made by migrants to their host communities.
With over 214 million people on the move each year, migration is often seen as a method for escaping poverty or human rights issues. However, a working paper produced earlier this year by Migrating Out of Poverty, discusses how the causes of migration are often more complex and how an understanding of these determinants is crucial for successful policy intervention.
Migrating Out of Poverty is a research programme consortium funded by DFID and coordinated by the University of Sussex. Designed to harness the potential for poverty reduction through migration and minimise risks for poor communities, the project generates research around seven core themes:
Migration and Poverty
Migration, Women and girls
Migration and Urbanisation
Migration Data
Migration and Policy
Migration and Climate change
Regional Priorities
Identifying the causes of migration is key to their research. Drivers of Migration, released in March, attempts to identify and configure the forces which initiate and perpetuate migration in order to build a framework of reference for practitioners and policymakers in the future.
The report highlights the growing consensus over the last two decades that poverty is not necessarily a "driver" of migration- in many cases it is an inhibitor. As the delineation of research themes within the programme suggest, there are many other contributing factors with varying degrees of influence.
The paper illustrates the distinctions between different types of determinants:
Predisposing factors- those factors which help create the context in which migration is likely;
Proximate factors- those with a more direct bearing on migration;
Precipitating factors- those that trigger departure;
Mediating factors- those that enable, facilitate, constrain, accelerate, diminish or consolidate migration;
By deconstructing the process of migration from inception to action, the paper suggests it is thus easier to identify key determinants, whether political, social, environmental or economic.
The paper also highlights the need to recognise scale, timeframe and traction when looking at drivers of migration; some drivers such as conflict or natural disaster have immediate impact while economic downturn has a longer time-span in which to influence migration.
The paper attempts to illustrate the complex relationships between these determinants and looks specifically at different corridors of migration: from Afghanistan to Iran and Pakistan and from Somali regions to Southern Africa.
Constructing a conceptual framework, the paper offers an analysis of the complex relationships between these drivers in order to provide an overview of the challenges and potential for successful policy intervention.
Recognizing that poverty is only one factor in migration, Migrating Out of Poverty continues to investigate how best to move poor communities away from poverty. With funding in place until 2016 the programme continues to generate research which broadens understanding of such a multi-dimensional issue.
Published 19 December 2012