DFID research: Improving science reporting in Africa
Better Science Reporting workshop held in Nairobi, Kenya, in partnership with the Kenya Agricultural Research Institute (KARI).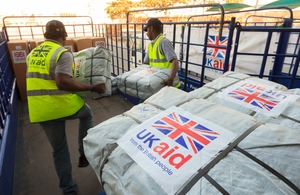 In October 2011, the last in a series of eight Better Science Reporting workshops was held in Nairobi, Kenya, in partnership with the Kenya Agricultural Research Institute (KARI). Twelve print and radio journalists from five East African countries received training in effective reporting of science-based stories in order to better engage readers and listeners with relevant content, and to bridge gaps between the science and media communities. The workshop was facilitated by WRENmedia, working with two Kenyan co-trainers, and hosted at KARI headquarters.
Two field trips during the workshop allowed the participants to practice new skills, reporting on work done by KARI's plant genebank, a push pull system for controlling maize stemborer, and efforts to support indigenous poultry rearing, including Newcastle Disease vaccination. Scientific staff at KARI were involved both in the field trips and in wider discussions with the media participants, in order to address prejudices and increase understanding between the two groups.
Over a four year period more than 70 journalists from East, West and southern Africa have benefitted from this series of DFID-sponsored training events. Many trainees have gone on to win international awards for their science reporting and to further professional development. A report on the latest workshop can be found at the link below.
In March 2012, an eight day workshop on reporting of climate change issues is taking place in Kenya, funded by the Climate and Development Knowledge Network (CDKN). The workshop, which will draw on lessons learned from the Better Science Reporting programme, is open to application by radio journalists in Kenya, Tanzania, Uganda, Rwanda and Ethiopia. An application and further details can be found on WRENmedia's Agfax website.
Link to report: Communicating research: contributing to sustainable development.
Published 19 December 2011