DFID Research helps combat Neglected Tropical Diseases (NTDs)
Charities, governments, NGOs, multilateral organisations and private sector to help consign neglected tropical diseases (NTDs) to history.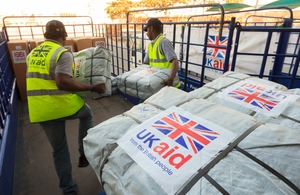 Charities, governments, NGOs, multilateral organisations and the private sector have united to help consign neglected tropical diseases (NTDs) to history. At an event held at the Royal College of Physicians on Monday, partners including the Bill and Melinda Gates Foundation, DFID, USAid, The World Bank, and 13 of the world's largest drug companies pledged to bring a unique focus to defeating these diseases and to work together to improve the lives of the 1.4 billion people worldwide affected by NTDs.
British support is leading the way and will protect more than 140 million of the world's poorest men, women and children from the agonising pain caused by these avoidable infections which deform, disable, blind and kill.
Sufferers of NTDs are often immobile with adults unable to work to support their families. Children are often forced to miss school for weeks, or even months, at a time. The diseases can force communities into deeper poverty as disabled and unemployed adults struggle to afford food and basic services, including healthcare, often causing generations of children to grow up with little education and few prospects for the future.
NTD research is essential and DFID is supporting the Drugs for Neglected Diseases initiative (DNDi) to develop new drugs for a range of major neglected tropical diseases including visceral leishmaniasis, human African trypanosomiasis and Chagas disease. The initiative has so far delivered two new fixed dose artemisinin-combination therapies (ACTs) for adults and children with malaria (ASAQ and ASMQ). The work of DNDi also fits with the DFID AIDS strategy as it addresses the major impact on HIV of neglected diseases (such as leishmaniasis).
We also support the Foundation for Innovative New Diagnostics (FIND) to develop new diagnostic tools for a number of diseases including human African trypanosomiasis. The programme has established one of the largest ever suites of diagnostic tools for poverty-related diseases in Africa including diagnosis platforms for Tuberculosis (TB), and Human African Trypanosomiasis (HAT or sleeping sickness).
We are also long term supporters of the Special Programme for Research and Training in Tropical Diseases (TDR) based at the World Health Organisation. The programme undertakes a wide range of different research programmes relevant to neglected tropical diseases including onchocerciasis, lympahtic filariasis, soil transmitted helminths, schistosomiasis, human African trypanosomiasis, visceral leishmaniasis and leprosy.
The group of partners will pledge commitment to a new, coordinated push to accelerate progress toward eliminating or controlling 10 neglected tropical diseases (NTDs) by the end of the decade. This will involve expanding existing drug donation programs to meet demand; sharing expertise and compounds to accelerate the research and development of new drugs; and providing more than US$785 million to support research efforts and strengthen drug distribution and implementation programmes.
Published 31 January 2012