DFID research: Global Food and Farming Futures
Global Food and Farming Futures.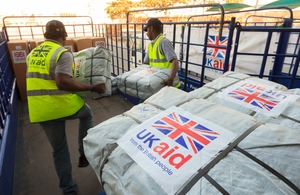 The final report of the Foresight project Global Food and Farming Futures, which set out to explore the increasing pressures on the global food system over the next 40 years was published on 24 January 2011. The Report, The Future of Food and Farming: Challenges and choices for global sustainability highlights the decisions that policy makers need to take today, and in the years ahead, to ensure that a global population rising to nine billion or more can be fed sustainably and equitably.
The Project, which involved around 400 leading experts and stakeholders from about 35 countries across the world, was sponsored by the UK Government's Department for Environment, Food and Rural Affairs (Defra) and Department for International Development (DFID). It analysed 5 key challenges for the future:
Balancing future demand and supply sustainably - to ensure that food supplies are affordable.
Ensuring that there is adequate stability in food prices - and protecting the most vulnerable from the volatility that does occur.
Achieving global access to food and ending hunger - this recognises that producing enough food in the world so that everyone can potentially be fed is not the same thing as ensuring food security for all.
Managing the contribution of the food system to the mitigation of climate change.
Maintaining biodiversity and ecosystem services while feeding the world.
The Report highlights the importance of interconnected policy making and argues that policy in sectors outside the food system, including energy, water supply, land use, the sea, ecosystem services and biodiversity, needs to developed in much closer conjunction with the policy in areas of the food system. It identifies a number of high level conclusions that summarise the findings, with an emphasis on what needs to be done immediately.
Substantial changes will be required throughout the different elements of the food system and beyond if food security is to be provided for a predicted nine billion people. Action has to occur on all of the following four fronts simultaneously:
More food must be produced sustainably through the spread and implementation of existing knowledge, technology and best practice, and by investment in new science and innovation and the social infrastructure that enables food producers to benefit from all of these.
Demand for the most resource-intensive types of food must be contained.
Waste in all areas of the food system must be minimised.
The political and economic governance of the food system must be improved to increase food system productivity and sustainability.
Addressing climate change and achieving sustainability in the global food system need to be recognised as dual imperatives. Nothing less is required than a redesign of the whole food system to bring sustainability to the fore.

It is necessary to revitalise moves to end hunger. Greater priority should be given to rural development and agriculture as a driver of broad-based income growth, and more incentives provided to the agricultural sector to address issues such as malnutrition and gender inequalities. It is also important to reduce subsidies and trade barriers that disadvantage low-income countries. Leadership in hunger reduction must be fostered in both high-, middle- and low-income countries.

Policy options should not be closed off. Throughout, the Project's Final Report argues the importance of, within reason, excluding as few as possible different policy options on a priori grounds. Instead, it is important to develop a strong evidence base upon which to make informed decisions.

The Report rejects food self-sufficiency as a viable option for nations to contribute to globalfood security, but stresses the importance of crafting food system governance to maximise the benefits of globalisation and to ensure that they are distributed fairly.
Published 27 January 2011