DFID research: Getting research into policy and practice – lessons from research on sexual health and HIV
A new report explores the strategies for translating research into policy used by research organisations working on sexual health and HIV.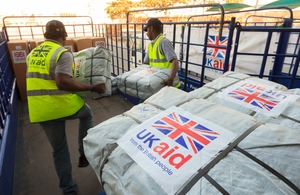 Evidence from research is crucial in improving policies and services, yet it doesn't always get taken up into policy. A new report published today provides insights on how researchers and communication specialists can engage with decision makers and ensure that research has the impact that it should.
The report - published as a special Supplement of the journal Health Research Policy and Systems - has been produced by the Sexual Health and HIV Evidence into Policy (SHHEP) initiative. Although based on the experiences of professionals working in sexual health and HIV, the lessons learned will also be relevant for researchers, practitioners, donors and policy makers working in other fields.
Research contributes to many outcomes, as the papers illustrate. These include creating spaces for public debate, contributing to changing laws and practices, influencing data collection, and changing behaviour through partnerships with civil society actors such as advocacy groups and journalists. Research can help raise awareness of new issues, change attitudes and affect how health services are designed and targeted, which in turn may affect the behaviour and practice of health workers.
The report draws on the work of four DFID-funded Research Programme Consortia (RPC) that undertake research and action on HIV and Sexual and Reproductive Health in resource poor contexts:
Topics covered by the papers include:
How researchers working to improve the health of orphans and vulnerable children affected by HIV in Ghana formed a close relationship with Government health and social welfare departments.
Building trust between researchers, community members and policymakers in herpes simplex virus treatment trials in South Africa.
Assessing the impact of a new report 'Reviewing Emergencies' for Swaziland, which documented the impact of HIV on this small country.
Work to engage the media about sexual and reproductive health in Kenya where researchers worked with the popular soap opera Makutano Junction on story lines that tackled issues like rape and homosexuality.
How an approach to safe sex which focuses on pleasure rather than disease and death can strengthen HIV prevention interventions.
How researchers in Bangladesh brought together journalists, public health workers and academics to discuss sexuality and rights issues with sexual minorities, for example gay men and lesbians.
 
More information
See also health insights issue 78: Getting research into policy and practice. Experiences from sexual and reproductive health, HIV and AIDS which consists of a series of articles based on case studies presented during a meeting at the Liverpool School of Tropical Medicine in May 2009.
Read the blog about the report on Research to Action.
Earlier this month, DFID presented its plans to make zero HIV a reality. The main focus will be reducing new HIV infections among women and girls, ending paediatric AIDS, and addressing the TB epidemic - the leading cause of death among people living with HIV. Read the UK's new position paper on HIV - Towards zero infections.
Published 16 June 2011