DFID research: FEAST trial, supported by DFID and Medical Research Council, wins British Medical Journal Research Paper of the Year award
The FEAST trial has won the prestigious BMJ Research Paper of the Year award.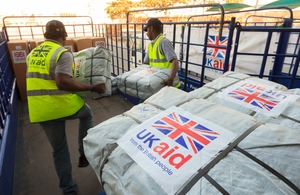 The FEAST trial has won the prestigious BMJ Research Paper of the Year award. This award recognises original research at the international level that has the potential to contribute significantly to improving health and health care.
The FEAST trial investigated whether fluid resuscitation helps improve the survival of children with shock caused by infectious diseases. Shock affects around 10 per cent of children admitted to African hospitals and sadly, 11-22 per cent of these children die, often within hours of admission. Although fluid resuscitation has been regarded as standard approach to treating shock in developed countries, it was unclear whether this approach could be safely used for African children. The FEAST trial was conducted in Kenya, Tanzania and Uganda and involved over 3,000 children who presented with shock. The trial unexpectedly found that rapid fluid resuscitation was actually harmful for children in shock caused by severe infections (malaria and/or sepsis in particular).
The judges unanimously chose the FEAST trial. Richard Hobbs, Head of Primary Care Health Sciences, University of Oxford, and one of the judges said "The panel were impressed with the rigour of the study, the relevance of the study to clinical practice, and the expectation that these data will in fact, rapidly change international guidelines."
Kath Maitland, the Chief Investigator of the FEAST trial said "We are very honoured to receive this award. Designing and conducting an ethical emergency controlled trial examining fluid resuscitation to international standards of good clinical practice had been widely viewed as an impossible challenge. The teams at the hospitals dedicated two years to ensuring delivery of a robust trial that had an unexpected and important result - which will certainly influence how sick African children are managed in future".
"The findings of the trial were controversial and surprising. This is why we need to do clinical trials. Fluid resuscitation is so very common in paediatrics and yet has never been tested anywhere in a controlled trial. The FEAST trial demonstrates that high quality trials can be conducted in Africa- and mean that 3 lives in every 100 hundred severely ill children will be saved if the results are implemented."
The trial was funded by the UK Medical Research Council and DFID More information about the trial and the award can be found here.
Published 28 May 2012