News story
DFID Research: Evaluation News looks at HIV response
This month's Evaluation News takes a closer look at the complex and challenging world of HIV evaluations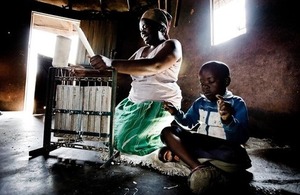 Evaluation News is a newsletter aimed at the evaluation community. It brings together all the latest outputs, opinions and professional news from a wide range of DFID funded evaluations. Providing information on recent and upcoming evaluations, each issue is focused around a central theme- highlighting all relevant activity in that area.
The latest issue draws together recent theoretical and practical work in the field of HIV Evaluation. Featuring evaluation studies from DFID, The Organisation for Economic Co-operation and Development (OECD), the World Bank and 3ie, the newsletter highlights some of the key initiatives at work in this challenging field.
One paper featured in the September edition is the recently published Investing in Communities Achieves Results. This report was produced as part of the DFID funded HIV Community Response Evaluation and highlights the value of community response in providing services and care for those affected by HIV. The study provided the first mixed-method evaluation of the impact of that response and finds that community response is effective in promoting social empowerment, increasing access to and use for HIV services and even decreasing HIV incidence.
As well as new publications, Evaluation News lists upcoming events relevant to the HIV evaluation community. The newsletter also presents a wide selection of further reading including reports from HIV impact evaluations in India, Burma and Zimbabwe.
For information on DFID funded research, see our Research for Development portal (R4D). To find out more about these publications and to access all the latest news around DFID evaluations, read the newsletter in full below. More information on DFID support for the HIV response can be found in the 2011 HIV Position Paper.
Published 19 September 2013