DFID research: Communicating the power of communication: two books on radio for development
Radio remains one of the most powerful communication tools in the 21st century. Two new books look at its role in research communication.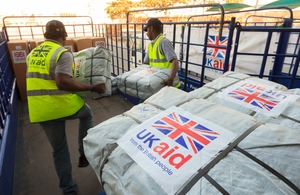 Despite the rise in social media and the dawn of the digital age, radio still remains one of the most powerful communication tools in the 21st century. In nations where internet and electricity are limited it is the most pervasive medium for connecting isolated communities. It is still the dominant mass-medium in Africa, reaching further than newspapers and television, both in terms of audience numbers and geographical reach. As such, it can be an invaluable tool in effective research communication. Harnessing this power to foster development is the subject of two books published one year apart.
People's Radio: Communicating change across Africa, by Dr. Linje Manyozo, a lecturer in Media, Communication and Development at the LSE, explores the challenges and benefits presented by radio for development initiatives. Manyozo examines radio as a platform for linkage and exchange between policy makers, government bodies, communities and researchers.
Looking at different strategies, the book highlights the importance of integrating indigenous knowledge systems and local communication requirements into any radio for development initiative. Manyozo notes that for Africa "linguistic diversity is both a problem and strength." He emphasises that to be effective, broadcasters must work alongside this diversity, using local language and concepts to communicate social change to their audiences.
Manyozo's comments on working within varied linguistic and cultural landscapes echo those outlined in Birgitte Jallov's book, Empowerment Radio: Voices Building a Community, published one year earlier. Jallov stresses the importance of giving voice to the individualism of different communities. Her book offers a step-by-step guide to designing and maintaining a successful community radio station as a means for facilitating social change.
Jallov discusses the potential benefits of linking radio with other forms of media such as internet and mobile phones. However, she argues that for part literate and marginalised communities "empowerment radio" is the most effective means of raising awareness and stimulating participatory networks for social change and development.
People's Radio focuses in detail on different case studies taken from across the African continent while Empowerment Radio highlights successful community radio projects around the world. Both commentaries, however, offer valuable insights and critique relevant to the wider global discourse on research and development communication.  Both explore how radio-based communication can work to facilitate participatory engagement in development policy formulation, and implementation, within the community. With experience in the field, the authors provide detailed insights into what works, and what doesn't, in community radio.
With DFID supported projects such as the PANOS programme Relay aiming to establish better links between research communities and the media across southern Africa, eastern Africa and south Asia, the discourse on research communication and media governance is becoming ever more dynamic. Behind-the-scenes, informed perspectives from individuals such as Manyozo and Birgitte Jallov offer valuable reference points for expanding this dialogue. With practical advice, as well as informed analysis, the books provide tool kits for broadcasters, communicators and researchers on the ground, essential for those in Africa and beyond.
People's Radio: Communicating change across Africa was published in June 2012 and is available to purchase from Southbound online.
Birgitte Jallov is Chair of the Board of Trustees at Panos London. Empowerment Radio: Voices Building a Community was released in June 2011 and is available to order here.
Published 21 August 2012