DFID research: CDKN Innovation Fund call for proposals- Focus on Africa
The Climate and Development Knowledge Network is currently calling for applications for round two of the CDKN Innovation Fund.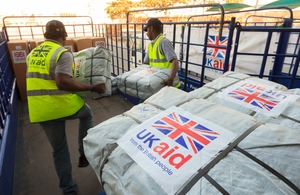 The Climate and Development Knowledge Network  (CDKN) works in developing countries to enhance access to high quality research on climate change and development. The programme, supported by DFID, aims to produce effective knowledge management networks as well as detailed research, building stronger partnerships between research capacity within the developing world and the wider international system of knowledge on climate change.
CDKN is currently calling for applications from groups for round two of the CDKN Innovation Fund. Applicant groups must consist of at least two institutions, the lead institution being African (not an international institution based in Africa).
Round one of the CDKN Innovation Fund opened for applications in October 2011. Following on from its success, CDKN has launched round two with a sole focus on Africa. The fund supports innovative thinking and is designed to develop strong creative initiatives in climate-compatible development strategies.
The CDKN Innovation Fund, Round Two:
will support two innovation process awards of up £100,000
may subsequently provide awards of up to £200,000 to support the implementation of the project proposal output
CDKN is a consortium of alliance organisations, focused on the effective translation of research into locally-managed policy processes. Operating across three continents, Latin America and the Caribbean, Asia and Africa, CDKN works with governments at national, sub-national and regional levels, offering tailored technical assistance to decision-makers on formulating climate change compatible development policies. A five-year project, CDKN has DFID funding in place until 2015.
CDKN identifies four priority themes globally:
Supporting climate negotiators in the least developed countries
Improving access to climate finance in developing countries
Developing resilience through climate change disaster risk management
Developing climate change compatible development strategies
Reducing carbon production while improving human development is one of the main challenges faced by CDKN. Working to broaden stakeholder involvement, the project aims to develop long term strategies which address both poverty and climate change.
Round Two of the Innovation Fund is focused solely on Africa. CDKN have established a list of research priorities in this area which complement their global objectives:
Improving access to clean energy solutions in Africa
Addressing climate resilience in the water sector in Africa
Strengthening African institutional capacity for implementing climate compatible development
Supporting African leadership in climate compatible development research and practice
Looking for research proposals which fall within these themes the CDKN Innovation Fund Application Form can be found **here** along with further information on the application process and allocation of funding. The deadline for applications was 31st August, 2012.
Other opportunities can be found on their website here.
Published 21 August 2012