News story
DFID research: Call for Proposals: Review of the evidence on indicators, metrics and monitoring systems for agriculture, poverty and environment
DFID seeking to collate and review evidence on indicators, metrics and monitoring systems for agriculture, poverty and the environment.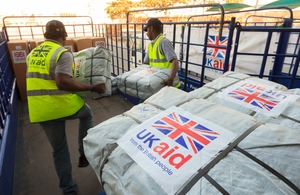 DFID is seeking to initiate a process to collate and review evidence on indicators, metrics and monitoring systems for agriculture, poverty and the environment.
This review should provide decision-makers with the tools to explore the trade-offs between food security, environmental and socio-economic goals. It will identify lessons learned and establish data for monitoring systems for the sustainable intensification of agriculture.
Background to the call
Pressure is rising for the agriculture sector to meet growing food requirements in the context of climate change and natural resource constraints. Any intensification of agriculture to increase yields must not - to be sustainable - degrade the environment through increased land use.
The CGIAR Science Forum 2011, among others, highlighted the need for metrics to ensure that agricultural systems and their products do not further degrade the environment, contribute to climate change and a loss of biodiversity.
The review should:
Map out key initiatives in data monitoring systems relating to agriculture, paying particular attention to those which also acknowledge the impact on ecosystem health, and/or poverty and well-being.
Summarise any pertinent findings from monitoring of data related to ecosystem health and poverty/well-being not directly connected to agricultural systems.
Classify the indicators identified in relation to their primary intended users (e.g. scientists vs decision-makers).
Undertake a gap-analysis of systems, indicators and metrics, identifying strengths and weaknesses in methodology and use.
Undertake an evidence-based synthesis of lessons based on a number of criteria.
Synthesise  lessons learned, guided by an expert panel, drawing on the evidence collated in the mapping and gap analysis.
In parallel to the review, DFID proposes to also convene a multi-disciplinary external expert group to validate and review monitoring systems and metrics undertaken in the last 20 years. The expert group will include academic, operational and policy partners. Its role will be  twofold: first, to  review current evidence and identify the next steps in terms of both DFID's role in supporting relevant current and future research. Second, to identify how other stakeholders, including the CGIAR, could build on the review in developing a strong scientific basis and appropriate methods to underpin the measurement of ecosystem related variables, and to analyse  the  trade-offs  between productivity, ecosystem and welfare outcomes from agricultural research and development (R&D).
The analysis will inform the development of any future DFID research investments in this area.
Applicants must have the following expertise:
Indicators, metrics and monitoring systems in ecosystems, environment and biodiversity;
Indicators, metrics and monitoring systems in agriculture, food systems and poverty and nutrition.
Development and design of monitoring systems and databases in developing countries.
Strong research expertise including in systematic review approaches and methods.
An electronic version of your Research Proposal (in Word 2003 format) should be received no later than 14:00, UK time, on Tuesday 5th June 2012.
Bids should be emailed to EvidenceReview@dfid.gov.uk
Published 22 May 2012