DFID research: Barriers to interaction can limit research uptake by the media
Two case studies from Panos London's Relay Programme show that limited interaction between researchers and journalists are a barrier to increasing the amount and quality of reporting using research findings.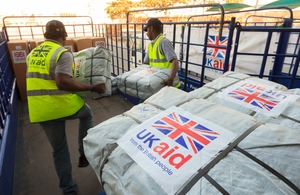 Two case studies from Panos London's Relay Programme show that limited interaction between researchers and journalists are a barrier to increasing the amount and quality of reporting using research findings.  Limited chances to meet and build working relationships reinforced a lack of trust and understanding. 
Panos further found that prior to the Relay intervention, reporting rarely included the voices of those affected by a problem.  Having a human face and voice element has been shown to increase the impression that information can make.  The main goals of the studies were to examine how changing researcher and journalist relationships and increasing the voices of the affected might improve media uptake of research findings.
Baseline analysis for both studies found that for stories about tax issues in east Africa and dams and development in northeast India there was a lack of features based on research and facts, as well as a lack of voices and views of those most affected by the issues.
In Kenya, for example, the media published articles about government spending during 2011 that highlighted corruption and political scandal. The coverage rarely picked up on local research that analysed links between taxpayers and public expenditure. Such research-based coverage could have played an important role in informing public debate on how citizens can hold their governments to account.
The DFID-funded Relay programme aims to improve the quality of media coverage by reporting research on critical development issues. It seeks, at the same time, to improve journalists' reporting skills and networking between journalists and researchers. In particular, Relay stresses the importance of including the voice of the people who are most affected by development issues in the news. The two case studies, both released last month, document the experiences and approaches of the programme in east Africa and northeast India last year.
The case study, produced by Panos Eastern Africa, titled Tax and Governance: Improving media engagement with research on tax and governance in Kenya and Uganda, revealed that in order to improve collaboration between researchers and journalists working on tax and governance, several obstacles needed to be overcome:
Mutual lack of trust and frustration between journalists and researchers
Poor networking and interaction between key stakeholders
Lack of resources and support for journalists and researchers
The second case study, produced by Panos South Asia, describes Relay's work in northeast India to launch a five-month fellowship programme. The team worked with a small group of journalists strengthening their skills while also studying the wider media coverage generated around the local construction of dams. The communities who live in these biodiverse, ecologically sensitive and earthquake prone areas are the ones directly affected by the infrastructure programmes.
This particular study looked at how the Relay programme could assist journalists in the region with their writing, specifically those working in the states of Assam, Manipur and Arunachal Pradesh. Analysis of articles prior to the intervention showed a tendancy to reflect either the views of the government who were pro-dam building or those societies or organisations who opposed their construction. The news lacked the voice of the people and the facts from researchers. Journalists faced the following problems:
Lack of information resources and knowledge of wider issues and their context (focus on individual events)
Lack of training and lack of opportunities to specialise in fields such as science reporting
Lack of resources including time to read and research and funds to travel to sites due to limited support from editors
Lack of interaction between researchers and journalists, and limited opportunities for journalists to gain experience in communicating research more widely (e.g. by attending press conferences etc.)
Dr. Partha J. Das, Head of the Water, Climate and Hazard (WATCH) programme, based in Aarabyak, India said: "The media and public are only repeating the same things and don't know much about the nuance of the facts. For example, they say dams would create floods but people don't know the details of how the silt and sediment patterns will change and affect livelihoods. Even the middle class is not aware of this and many other issues."
Interviews and questionnaires from the Relay Programme showed that in Kenya and Uganda researchers didn't trust local journalists, and journalists thought local researchers were difficult to work with. In contrast in northeast India, distrust was not so much the problem as lack of opportunity, for example, to attend workshops and training, and experience. In this region, journalists and researchers valued each others'role and profession more than in east Africa. In both regions, journalists and researchers reported they had not previously been given the opportunities or spaces to come together as professionals to share knowledge and experience.
Results of the Relay Programme intervention included noticeable improvements in journalists' writing skills and a desire to use research as a source for their stories. By including interviews with people affected by the issues as well as researchers who could explain them, the journalists created better, more informative stories. By repeatedly 'getting behind the headlines' to present more in-depth analysis of the issues behind the headlines, the journalists helped to increase public understanding of the issues. By giving the journalists the opportunity to engage with researchers, Panos Relay laid the foundations of what could become fruitful collaborations in the future. (Examples of success stories from the Northeast India project can be found here).
An important outcome of the project in Africa was that it helped to 'identify policy champions and raised the profile of ****tax and governance issues'**.** And in northeast India, the coverage produced by the journalists 'highlighted ****new angles and new issues** such as the impacts of dams on the environment and people's livelihoods'.**
For tips on communicating research for journalists, visit Panos' website.
Published 2 May 2012