DFID research: AGFAX- Radio and research
A recent radio interview demonstrates how the African news service, AGFAX, helps disseminate specialist research to rural audiences.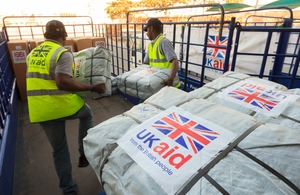 AGFAX is a radio and press service which keeps listeners in Africa updated on developments in farming and rural livelihoods, with an emphasis on science and innovation. Initially conceived as a service for news houses in Africa and Asia, AGFAX now operates solely in Africa and is committed to including voices from the ground, producing interviews and reports to be broadcast by a network of 80 radio stations across the African continent.
With the aim of generating informative and innovative programmes for their listeners, AGFAX provides a full transcript of each interview and suggested introductions to be used by broadcasters. Making their interviews as accessible and user friendly as possible helps ensure that channels of communication in rural areas are able to disseminate and appropriate AGFAX resources effectively.
A recent interview by Geoffrey Onditi with Jonathan Muriuki from the World Agroforestry Centre demonstrates how AGFAX engages with current research, extracting information significant to its listeners.
Projects such as the Trees for Global Benefit Program: Environmental Conservation Trust (ECOTRUST) of Uganda supported by the CGIAR Research Program on Climate Change, Agriculture and Food Security (CCAFS) encourage farmers to engage with agroforestry techniques, planting trees in land which is traditionally farmed. The AGFAX interview addresses the concerns of farmers in Kenya who worry that the introduction of trees may compete with crops for nutrients, water and light.
Muriuki highlights how the right trees in the right places can increase the fertility of the soil. He also points out that traditional methods of leaving land fallow have been abandoned in recent decades in attempts to increase yields and that this has had a detrimental effect on the soil quality. He names specific trees which can rapidly restore the land to its previous state.
With a list of the advantages of agro-forestry over the use of chemicals, such as lower costs and lower maintenance, the interview is aimed at rural farmers. This allows Muriuki to debunk prevailing myths held by ordinary people around the negative impacts of trees on surrounding crops.
Onditi's questions cover a range of topics around the issue, from where to find information on getting started to how to use the trees themselves as a crop at a later stage. By directly engaging with concerns from the farming community in a concise manner the broadcast provides listeners with a news item, which is both enjoyable and easily understood.
With radio still one of the dominant forms of communication in rural Africa, programmes such as AGFAX is ensuring that key information reaches those who need it or want it. Reporting from the field is still problematic for many journalists in Africa and programmes like this one ensure that research projects in one area can be easily communicated to others. This is not achieved by simply providing radio stations with interviews but by selecting content relevant to the specific audience and presenting it in a way which clearly highlights its connection to rural livelihoods in that area.
To listen to the full interview click here or visit the website for more information.
Published 18 January 2013