DFID research: Adapting to Climate Change
The AfricaAdapt Climate Change Symposium was held in Addis Ababa, Ethiopia, on 9-11th March 2011.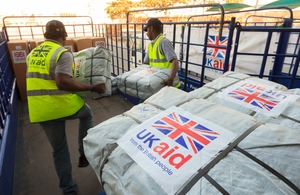 The AfricaAdapt Climate Change Symposium took place in Addis Ababa, Ethiopia, on 9-11th March 2011. This three-day bilingual (French/English) event was attended by nearly 200 participants, with representatives from across policy, research, NGOs, community-based organisations and media. The majority of participants presenting papers come from across the different regions of Africa, and were joined by a smaller number of international participants.
The focus of the symposium was on evolving approaches, tools, methods and philosophies addressing the links between increasing climate change and variability in Africa and sustainable development. Keynote speakers representing leaders in African climate policy, research and media were included among the panels of over 70 papers focussing on the following five themes:
Links between adaptation, mitigation and low carbon, or "climate compatible" development
National and international policy: Linking policy and practice
Roles of local and indigenous knowledge in addressing climate change
New thinking on community-led responses: From local to global
The roles of media and intermediaries in translating, sharing, and advocating
An open space for innovative sessions was also developed to encourage creative new exchanges between African research, practitioner and policy communities. Through a combination of lesson-sharing, debate and interactive sessions, it is hoped that this landmark event will have helped set the agenda for African-led adaptation.
Adapting to climate change - telling their stories
During the conference, community projects showcased the best and most ingenious approaches of Africa's next generation of political and social activists to tackle the twin challenges of poverty and climate change.
Mulualem Birhane Lieh, an Ethiopian farmer born in a fertile village and watched it waste away before teaching himself English and marching to Copenhagen with his wife Wubalem Mengist Sewagne to demand action. He and Wubalem now work in villages throughout Ethiopia teaching new climate-resilient farming methods and calling for women to be given a greater role in decision-making.
Bonty Botumile, a storyteller, children's author and researcher from Botswana, has been creating a database of indigenous knowledge on river management in an area where three countries - Namibia, Botswana and Angola - share one water source to find the hotspots for conflict and cooperation.
Agriculture campaigner, Lindiwe Sibanda, spoke about the women's community theatre in Malawi which her organisation, FANRPAN, has been supporting. This uses performance as a way of sharing ideas and influencing local and national government, while training women in policy and activism.
Published 7 April 2011