DFID research: Achieving Food Security in the Face of Climate Change
Commission of eminent scientists has released concrete recommendations on how to achieve food security in light of climate change.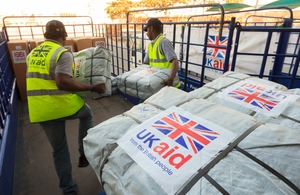 In the lead up to UN global climate talks in Durban, South Africa, from 28 November to 9 December 2011, an independent global commission of eminent scientists has released a set of concrete recommendations to policy makers on how to achieve food security in the face of climate change. Based on a thorough review of existing research, the commissioners urged immediate, coordinated action toward transforming the food system to meet current and future threats to food security and environmental sustainability.
The Commission on Sustainable Agriculture and Climate Change's "Summary for Policy Makers" outlines crucial policy responses to the global challenge of feeding a world confronted by climate change, population growth, poverty, food price spikes and degraded ecosystems. The seven high level recommendations are:
Integrate food security and sustainable agriculture into global and national policies
Significantly raise the level of global investment in sustainable agriculture and food systems in the next decade
Sustainably intensify agricultural production while reducing greenhouse gas emissions and other negative environmental impacts of agriculture
Target populations and sectors that are most vulnerable to climate change and food insecurity
Reshape food access and consumption patterns to ensure basic nutritional needs are met and to foster healthy and sustainable eating habits worldwide
Reduce loss and waste in food systems, particularly from infrastructure, farming practices, processing, distribution and household habits
Create comprehensive, shared, integrated information systems that encompass human and ecological dimensions
Prof. Sir John Beddington, Chair of the Commission, summed up the challenge: "It's about reorienting the whole global food system - not just agricultural production, and not just in developing countries. We need a socially equitable, global approach to produce the funding, policy, management and regional initiatives that will deliver nutrition, income and climate benefits for all."
In making their recommendations, the Commissioners cited the interconnected relationship between agriculture and the environment. As populations grow to upwards of 9 billion people, so will demand for food, fuel and feed crops. This could put many agricultural systems under immense stress and result in further depletion of soil fertility, biodiversity and water resources and increase greenhouse gas emissions to the atmosphere, according to the Commission.
The Commission's final report, upon which the recommendations are based, will be released early in 2012. The full list of commissioners, the summary document, and additional background, facts, images, and other materials can be found at http://ccafs.cgiar.org/commission.
The Commission was set up and co-funded by the CGIAR Research Program on Climate Change, Agriculture and Food Security (CCAFS). Whilst the CCAFS receives support from DFID, the views in the report are of the individual commissioners acting in an independent capacity and do not represent a statement of DFID policy.
Published 19 November 2011