World news story
DFID, M-PESA Foundation hold a networking event for foundations working in Kenya
The meeting allowed foundations to share their experiences and discuss how to improve delivery, collaboration and measure results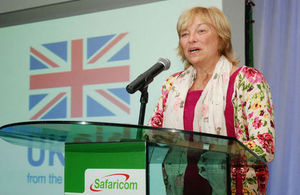 At least 30 foundations working in Kenya met at a networking event organised by DFID (the UK Department for International Development) and M-PESA Foundation with an aim of improving connections between them.
The informal meeting allowed foundations to share their experiences and discuss how to improve delivery, collaboration and measure results. Other key issues such us transparency and accountability was discussed in the meeting.
They also expressed their need to get Government support. Other participants included bilateral donors, foundations and Government of Kenya representatives.
Foundations are increasing in number and range of activity and they are known globally for fostering innovation. Kenya is an emerging hub for foundation activity. Today we have reviewed how foundations can collectively improve their impact and better deliver in line with Kenya's Vision 2030," said Head of DFID Kenya, Lisa Phillips.
M-PESA Foundation Executive Director, Les Baillie, noted that the M-PESA Foundation is a separate entity from Safaricom Foundation as funds used are profits earned from M-PESA Holdings. However, Safaricom Foundation which is the largest corporate Foundation in the country, has implemented over 700 projects countrywide with an aim of transforming lives since inception in 2003.
I thank M-Pesa Foundation and UKaid for organizing this event, I would like to state that from the onset that working together is a clear demonstration of the Public Private Partnerships that we encourage in this country," said the Principal Secretary, Ministry of Devolution and Planning Eng. Peter Mangiti.
We have recognised that Micro Small Medium Enterprise (MSME) are key drivers in the growth of our economy and creation of employment. I therefore encourage the organisations present to promote and work closely with the MSME," he said.
The Government, working with UNDP (United Nations Development Programme) plans to establish and operationalise County Business Development Centres to promote local business.
The foundations present agreed to continue funding innovative projects that focus on human and economic development which will improve the lives of millions across the country and wider East Africa. Photos of the event here
Published 9 July 2014