World news story
DFID Launches $72 Million Livelihoods and Food Security Programme
This was published under the 2010 to 2015 Conservative and Liberal Democrat coalition government
Programme to increase incomes and reduce poverty among smallholder farming households in chronically food and nutrition insecure districts.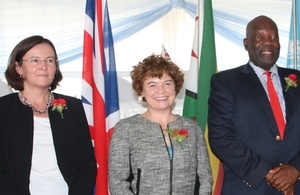 The United Kingdom's Department for International Development (DFID) today launched a $72 million four-year programme which aims to increase agricultural productivity, increase incomes, improve food and nutrition security, and reduce poverty in rural Zimbabwe.
The Livelihoods and Food Security Programme, will be managed by the Food and Agriculture Organization of the United Nations (FAO), GRM International and Coffey among other partners. It will improve the lives of smallholder farmers in eight rural districts across Zimbabwe.
Speaking about the programme, Hon Dr Made, Minister for Agriculture, Mechanization and Irrigation Development said
My Ministry leads the Food Security and Nutrition cluster of the Zimbabwe Agenda for Socio Economic Transformation (ZIMASSET) and it is in this framework that I commend and welcome initiatives such as the Livelihoods and Food Security Programme (LFSP) that offer an opportunity to a wide range of stakeholders to contribute to the attainment of household and national food security and nutrition goals.
Head of DFID Zimbabwe, Annabel Gerry said:
DFID believes in ending aid dependency through job creation. This programme will enable rural communities to become self-sufficient, growing their own food, and providing an income. In partnership with FAO, GRM and Coffey we believe the programme will make a huge difference for some of the poorest people in Zimbabwe.
Notes to editor
Smallholder farmers play a critical role in food and nutrition security in Zimbabwe as they account for the bulk of the food that is produced in the country. The challenges facing small holder farmers in Zimbabwe include low smallholder agricultural productivity caused by, among other things, reliance on rain-fed systems, poor input/output markets, low soil fertility, lack of draught power, lack of smallholder oriented credit support systems and stretched agricultural extension service delivery systems.
The programme will contribute to poverty reduction, in line with Zimbabwe's national priorities. It will also actively address the specific constraints that smallholder farmers, particularly women, face in raising the productivity of their farms and enabling them to sell the food they produce in markets.
The Zimbabwe Livelihoods and Food Security Programme (LFSP will be implemented in Mutare, Makoni and Mutasa Districts of Manicaland province, Kwekwe, Gokwe South and Shurugwi districts in Midlands province and two districts, Guruve and Mt Darwin in Mashonaland Central province. The programme will target 126 975 smallholder farm households in these areas and is expected to reduce food insecurity for 348 975 people.
This four-year programme is being implemented through two main components:
An Agricultural Productivity and Nutrition (APN) component being managed by the FAO with the objective of raising smallholder farm productivity by introducing improved and climate appropriate agricultural practices, access to finance and markets and promote production and consumption of safer and more nutritious foods.

A Market Development (MD) component being managed by GRM with the objective of linking smallholder farmers to profitable commercial markets as well as to stimulate demand and supply of affordable nutritious foods.
The Monitoring, Reporting and Evaluation activities will be managed by Coffey to facilitate internal lesson learning throughout the programme's lifetime. These activities will also bolster the evidence base on effective ways of supporting livelihoods and tackling food insecurity and malnutrition in the country.