World news story
DFID signs £1 million grant with Kenya Private Sector Alliance
KEPSA signed an MoU with DFID-Kenya for a £1 million grant to support the implementation of its new Business Strategy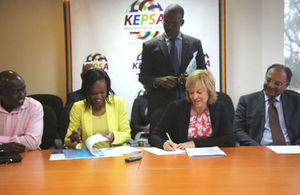 The Kenya Private Sector Alliance (KEPSA) signed a Memorandum of Understanding (MoU) with the UK's Department for International Development (DFID-Kenya) for a £1 million grant to support the implementation of its new Business Strategy ahead of the KEPSA's tenth anniversary. The Strategy seeks to re-model KEPSA into a leading private sector advocacy apex body within the next ten years, and create links with similar bodies such as the Singapore Business Federation (SBF), Japan Business Federation (JBF), the Movement of the Enterprises of France (MEDEF), Confederation of British Industries (CBI) among others.
KEPSA Chief Executive Officer, Carole Kariuki said the signing of the MoU demonstrates both parties' commitment to the new Business Strategy.
This support will help sponsor most of KEPSA's dialogue platforms with law and policy makers and drive legislative and procedural change that will result in wealth creation and private sector growth.
KEPSA's primary mission over the next five years will be to ensure year-on-year improvement in the overall business environment of Kenya, and for the country to attain top 50 positions in three global business environment indices by 2018. Examples include: the Ease of Doing Business Index; the Global Competitiveness Index; and Transparency International Bribery Index in the context of attaining Vision 2030.
Head of DFID-Kenya Lisa Phillips, said;
DFID sees private sector growth as key to economic development and poverty reduction. Rising incomes drive poverty reduction; and investment in growing businesses is the primary driver of rising incomes and wealth in many countries, including Kenya.
KEPSA Director Patrick Obath thanked DFID for their support to the sector since its inception in 2003. He emphasised that the KEPSA's mandate includes advancing the interests of all businesses including the Micro and Small, Medium Enterprise (MSME).
Published 24 July 2014