News story
DFID flies the rainbow flag
DFID is celebrating the International Day Against Homophobia, Biphobia and Transphobia by flying the rainbow flag.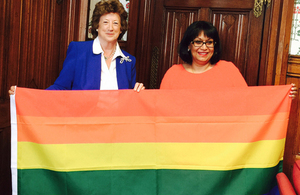 Discrimination can damage societies, hold back economies and limit countries' potential for development. Today DFID re-stated its commitment to lesbian, gay, bisexual and transgender (LGBT) rights by flying the rainbow flag to mark the International Day Against Homophobia, Biphobia and Transphobia.
International Development Minister Baroness Verma said:
I am proud DFID is flying the rainbow flag today. The chance to live a life with freedom and dignity should not be tied to a person's sexual orientation or gender identity.

This is why we set out our approach to LGBT rights earlier this year and why, after the flag is lowered tonight, we'll continue to help LGBT communities around the world to live free from discrimination.
Nearly 80 countries criminalise consensual, adult same-sex activity and, in some cases, same-sex acts can be punished with the death penalty. The resulting stigma can prevent LGBT people accessing education and health services and can lead to economic, political and social exclusion.
As part of the Global Goals' commitment to "Leave no one behind" the UK has worked to create space at the international level for LGBT rights to be discussed, debated and accepted as a clear reaffirmation of the universality of human rights.
The department is exploring new ways to raise LGBT issues up the international agenda. Baroness Verma recently met with business leaders to highlight the economic and business case for global LGBT inclusion. DFID is also working with LGBT people in developing countries across the world to gather information on issues they face – including police abuse, violence, denial of property rights, prejudiced media coverage and discriminatory employment practices – to improve advocacy efforts and ultimately ensure that services are available to help those who need it.
Published 17 May 2016