World news story
DFID attends the Regional SADC Gender Protocol Summit 2014
This was published under the 2010 to 2015 Conservative and Liberal Democrat coalition government
DFID Southern Africa supports Genderlinks' push for gender equality in the countdown to 2015.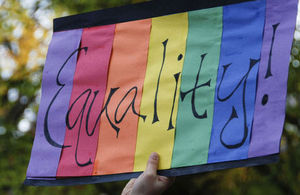 From 26 to 29 May 2014 over 350 delegates, gender activists, drivers of change, media, government and faith-based organisations from around the Southern African region, gathered at the Regional SADC Gender Protocol Summit 2014 to make a concerted push for gender equality in the countdown to 2015. The summit was hosted by DFID-supported Genderlinks and the Southern Africa Protocol Alliance.
During the summit, a wide range of individuals and organisations were recognised with SADC Gender Protocol at Work Summit Awards 2014 for sharing their efforts and tested approaches to promote gender equality at all levels of society. The event not only rewards gender champions, but also serves as a platform to call on governments to step up the pace on fulfilling the 28 targets on the SADC Gender Protocol before the 2015 deadline. With time ticking fast and eight more elections taking place across the region, this year's regional Summit places special emphasis on the 5050 campaign and the need for a stronger post-2015 gender equality instrument. The 50% target for women's representation in all areas of decision-making is enshrined in the Southern African Development Community (SADC) Protocol on Gender and Development adopted in South Africa in 2008.
DFID Southern Africa has been a proud supporter of Genderlinks' work since 2008 committing over £6 million funding. The funding was recently extended to 2016, in order to continue putting women and girls at the heart of development in Southern Africa and the wider SADC region and to make progress on the post-2015 agenda.
Genderlinks is a valued partner for facilitating learning partnerships on gender with other civil society organisations and amongst the donor community, particularly with the EU and Member States. Genderlinks has played a key role in strengthening the evidence base on the extent of the crisis of Gender Based Violence (GBV) in the region through its GBV Indicators studies.
DFID Southern Africa shares many common priorities with Genderlinks, two of which are:
Strengthening the evidence base with a new £25m Research and Innovation fund on what works to prevent violence against girls and women
Securing a post-2015 framework which delivers a safer world for girls and women; among others
Justine Greening, DFID Secretary of State recently said gender inequality is the greatest unmet human challenge of the 21st century. There has been significant progress though as gender equity is now enshrined into law, with the passage of a new International Gender Equality Act. DFID Southern Africa pledges its continued support on this agenda and states its appreciation of Genderlinks influential work and dynamism.
The British Government is committed at the highest levels to work with partner governments to prevent violence against women and girls. From 10-13 June, it is hosting a Global Summit in London to End Sexual Violence in Conflict, co-chaired by Foreign Secretary William Hague and UNHCR Special Envoy Angelina Jolie. The summit aims to take forward momentum on the UN Declaration of Commitment to End Sexual Violence in Conflict that was signed by over 148 countries in September 2013. In South Africa, we are partnering closely with national government departments, UN partners and civil society on a cross-government model for preventing gender-based violence.
Further on the global level, in July this year the Prime Minister will host a Girl Summit (supported by DFID and the Home Office) to galvanise international efforts to end female genital mutilation and child, early and forced marriage – two immense issues in Africa and elsewhere. Zambia recently launched a national campaign against child marriage. And in December last year Ministers of Education and Health from 21 countries in Eastern and Southern Africa committed to eliminating child marriage by 2020.