Government response
Development on the Green Belt
Housing and Planning Minister Brandon Lewis responds to claims in the Telegraph about development on the Green Belt.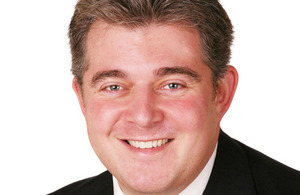 Brandon Lewis said:
This government has been very clear that Green Belt protection continues, and the most recent official statistics show that the level of Green Belt development is at its lowest rate since modern records began in 1989. We have fortified the Green Belt by abolishing the last government's top-down Regional Strategies, selling our surplus brownfield land for redevelopment, and introducing more flexible planning rights so empty and underused buildings can be brought back into productive use.

Local plans are now at the heart of the planning system, so councils decide where development should go. There is enough brownfield land to deliver up to 200,000 new homes, and councils should be using their powers and the support that's available from the government to prioritise development on these sites, and defend our valuable countryside against urban sprawl.
Background
Green Belt development on both developed and previously-developed land is at the lowest level (in terms of hectares) since 1989 – Live Table P245: land use change: land changing to developed use within the Green Belt that was previously-developed, England, 1989 onwards
The latest Green Belt figures also show a loss of only around 0.02% of the total Green Belt. The Green Belt is now about 34,000 hectares larger than in 1997. 13% of land in England is covered by Green Belt; about 9% of land is developed. Ministers are committed to prioritise and accelerate development on brownfield sites. Local development orders are a flexible option that councils can use to grant planning permission so construction can begin as soon as possible. A £5 million fund was launched this week (7 August) to help councils consult on local development orders for brownfield land they identify.
Ministers have also outlined their plans for 30 housing zones on brownfield land in London and across the country. Further details will be announced shortly.
Published 11 August 2014