World news story
Development of the NPM legislation in Kazakhstan
Seminar on the practical implementation of the national preventive mechanism designed to prevent torture held in Almaty on 29-30 November 2013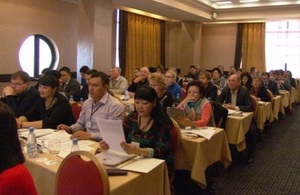 On November 29-30, 2013, a seminar on the practical implementation of the national preventive mechanism designed to prevent torture and other cruel, inhumane or degrading forms of treatment and punishment (NPM) took place in the conference hall of the hotel "KAZZHOL".
Representatives of the civil society interested to ensure an effective enforcement of the new monitoring institution of the country were invited to take part in the event.
It is known that Kazakhstan in line with its commitments pertaining to the ratification of the Optional Protocol has passed a law establishing an institution whose role is to prevent torture and other cruel, inhumane or degrading forms of treatment or punishment. The model chosen for this institution is "Ombudsmen plus", meaning not only involvement of the Commissioner for Human Rights (Ombudsman) only, but also stipulating an active participation of the civil society, public associations experienced in protection and promotion of human rights and freedoms.
The objective of the seminar was to cover the main procedures of the NPM like the order of forming the NPM Coordinating Council and selection of participants, topics of forming the groups for preventive visits, functional differences between the two monitoring bodies, the PMC and NPM, based on the experience of countries where such preventive mechanism is already in effect.
The participants were offered methodological recommendations concerning preventive visits to the institutions covered by the NPM mandate, including specialized educational institutions, educational institutions with special regime of care and centers for adaptation for the minors. The agenda of the seminar also included such issues like legal support to torture victims, drafting of media-plans to cover the work of the NPM.
"Adoption of the law has been preceded by several years of joint efforts of both state agencies and non-governmental sector. The preventive visits of the NPM members will be financed through the republican budget and will be initiated already in January next year. We are at the very beginning of the road of the NPM's formation and its effectiveness will depend of how well fine-tuned the mechanism is. We hope the seminar will answer all the questions of the participants and will serve as a quality forum for practical decision-making", Saule Mektepbayeva, Penal Reform International Regional Director said.
The Organizers – Commissioner for Human Rights of the Republic of Kazakhstan, Penal Reform International in Central Asia The seminar was conducted under the support of the British Embassy in Kazakhstan within the framework of the project on "Establishing National Preventive Mechanism (NPM) in Kazakhstan: putting policy into practice".
Other supporters of the event: OSCE Center in Astana, UNICEF, UN OHCHR
For additional information please contact Penal Reform International +7 (7172) 798-885 and inurmaganbetov@penalreform.org
Published 2 December 2013