Developing UK relations with the Gulf
Minister for the Middle East Alistair Burt met with Ambassadors from the Gulf Co-operation Council states yesterday at the Foreign Office.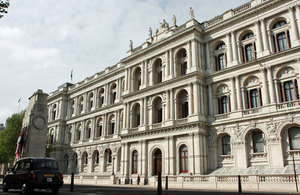 Minister Burt gave an update to the Ambassadors on how the British Government's desire to elevate its relations with the Gulf was being put into action. Ministers and officials from seven other Government departments also attended the meeting.
The Ministers and Ambassadors discussed a broad range of areas where they would like to deepen co-operation, including regional security, trade and investment, energy and climate change, education and culture and foreign policy and international development.
Mr Burt and his colleagues welcomed the Ambassadors' ideas and suggestions as to how they could work together more closely across the board. As Mr Burt set out, the forthcoming "GCC Days in Europe Expo", which will take place in London on the 18 - 22 October, will be an excellent opportunity to exchange more ideas and build the relationship even further.
Following the meeting, Alistair Burt said:
"This was another valuable opportunity to further the relationship between the UK and the GCC States, and I was glad of the opportunity to hear the views of the Ambassadors on how we can build on the efforts that have already started. I am pleased that our desire for a real deepening and widening of that relationship is already turning into reality."
The following people attended the meeting:
His Excellency Mr Khaled Al-Duwaisan GCVO, Ambassador of the State of Kuwait and Dean of the Diplomatic Corps
His Excellency Mr Abdul Aziz Al Hinai, Ambassador of the Sultanate of Oman
His Excellency Shaikh Khalifa Bin Ali Bin Rashid Al-Khalifa, Ambassador of the Kingdom of Bahrain
His Excellency Khalid Rashid Al-Hamoudi Al Mansouri, Ambassador of the State of Qatar
His Excellency Abdulrahman Ghanem Almutaiwee, Ambassador of the United Arab Emirates
Abdulrahman Al-Suhaibani, Counsellor and Charge d'Affaires , Embassy of the Kingdom of Saudi Arabia
Alistair Burt MP, Foreign & Commonwealth Office
Lord Astor, Ministry Of Defence
Andrew Cahn, Chief Executive, UKTI
Alan Duncan MP, Department for International Development
Lord Hill, Department for Education
Baroness Neville-Jones, Home Office
Ed Vaizey MP, Department for Culture, Media and Sport
Lord Marland, Department for Energy and Climate Change
Martin Davidson, CEO British Council
Published 22 September 2010