World news story
Developing English language skills across Cuban Universities!
The British Council and the British Embassy in Havana sign an agreement for the teaching of English in Cuban universities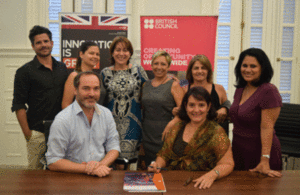 The British Council in Cuba, as part of its collaboration with the Cuban Higher Education Ministry (MES), is currently running a "train the trainers" programme which aims to help Cuban university students meet the Common European Framework of Reference for Languages (CEFR) requirements in the English language. This project is supported by the British Embassy in Havana.
British Council Country Director Minerva Rodriguez and British Embassy Second Political Secretary Anthony Henderson signed an agreement yesterday for delivering training to a core group of English professors (master trainers) in tertiary education and equipping them to train other university English teachers across Cuba.
This project supports the Cuban Higher Education Ministry's strategy, which aims to achieve a higher level of English skills for university graduates. The British Council will celebrate 20 years of collaboration in education and culture with Cuba in 2018.
Published 18 August 2017