News story
Details of Government support for business published
This followed the Treasury concluding a review of significant projects announced since January to check they were affordable, value for money…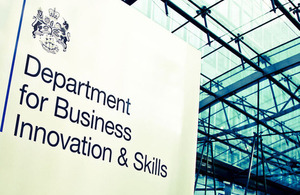 This followed the Treasury concluding a review of significant projects announced since January to check they were affordable, value for money and that they fitted in with the priorities of the Coalition Government.
Government will continue with BIS projects for:
Bristol and Bath Science Park - £2.6 million;
International Space Innovation Centre in Harwell - £12 million;
Discovery Research Ship - £75 million;
National Renewable Energy Centre (NAREC) Offshore Wind Blade Test Site, Blyth - £11.5 million;
NAREC Offshore Wind Turbine Test Site - £18.5 million;
Offshore Wind Demonstration and Development - £12.4 million;
Offshore Wind, Mitsubishi Collaborative R&D to support Mitsubishi and partners - £30 million;
Support for the Post Office Network - £180 million ;and
Spectrum clearance costs.
However, two previously announced projects are no longer to receive funding from Government. These are:
Sheffield Forgemasters ;and
Outokumpu - Sheffield
Dr Cable said the Government had both to reduce the deficit and help create growth. It was essential to strike the right balance between the two to lock in the recovery.
Business Secretary Vince Cable said:
"In the economic climate that we find ourselves in some of the commitments previously made by Government can now no longer go ahead.
"This is why it is so important that there is support for skills, science and entrepreneurship through more apprenticeships, spending on gold standard science research and slashing burdensome red tape.
"It is clear that Government can not simply continue to commit money to every project, but there are other things that government can do to secure the recovery."
All of the projects which have not met the criteria will now be wound up or Government will seek alternative ways to ensure that they go ahead.
Dr Cable said Sheffield Forgemasters was a worthwhile project but the money had run out.
Business Secretary Vince Cable said:
"Sheffield Forgemasters is an important part of the UK's ability to develop a civil nuclear supply chain and its specialist forging skills are in demand globally.
"However, we have to find a balance between reducing the deficit while helping the economy to grow. Against a backdrop of reduced public spending, the Government's role is to create the right business environment and the right skills base. The Government cannot simply keep writing out cheques.
"The Government hopes the company secures private investment for this worthwhile project."
He said the Post Office plays a hugely important social and economic role in communities throughout the UK.
"We will protect the £180m of Government funding for the Post Office in 2011/12 to maintain the network at around its current size."
**Notes to editors **
Today's announcement means that negotiations which were put on hold when the Treasury announced its project review on May 17, can now restart.

The announcement follows on from a confirmation from the Business Secretary that a loan guarantee of £360 million to Ford to support its £1.5 billion investment in six projects for the development of lower carbon vehicle and engine technologies safeguarding 2,800 skilled workers, in Bridgend, Dagenham, Southampton and Dunton in Essex, would go ahead.

The Business Secretary also confirmed a £20.7 million grant to Nissan to support their plans for a £420 million investment to build a battery plant and electric car production in Sunderland, securing and creating over 550 jobs.

Yorkshire Forward's Outokumpu project was intended to purchase and develop the Outokumpu site at Shepcote Lane, Sheffield into an industrial park.
Notes to Editors
Contact Information
Name BIS Press Office Job Title
Division COI Phone
Fax
Mobile
Email NDS.BIS@coi.gsi.gov.uk
Name Josh Coe Job Title
Division Department for Business, Innovation and Skills Phone 020 7215 5943 Fax
Mobile
Email Josh.Coe@bis.gsi.gov.uk
Published 17 June 2010