Press release
Designated drivers rewarded this Christmas
8,000 pubs and bars across the country will reward designated drivers through the THINK! christmas drink drive campaign.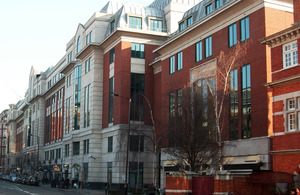 Designated drivers will be rewarded in more than 8,000 pubs and student union bars across the country as part of the THINK! christmas drink drive campaign, launched today by Road Safety Minister Mike Penning.
This year's THINK! Christmas drink drive campaign will include radio advertising, posters in pub washrooms, online search activity and targeted Facebook advertising to remind drivers of the personal consequences of a drink drive conviction. THINK! have also teamed up with Coca-Cola's designated driver campaign to offer drivers across the country free soft drinks at venues this Christmas as part of the Driver Friendly campaign.
Drivers will be able to find participating venues using the Coca-Cola 'Pub Finder' tool, either online or via their smart phones.
THINK! campaign activity will be aimed at young men aged 17 to 29, who are consistently over-represented in drink drive casualty figures.
Mike Penning said:
The number of drink drive deaths has fallen by more than 75% since 1979, but drink driving is still devastating lives with around 250 people killed in collisions where a driver was over the limit last year.

Our THINK! campaign makes it clear that drivers who get behind the wheel over the limit risk losing their licence as well as facing a fine and even a prison sentence.

We are also teaming up with Coca-Cola and pub chains across the country to reward designated drivers as part of our Drive Friendly initiative, as well as reminding people of the consequences of getting a drink drive conviction.

No one wants to spend their christmas in a police cell. My message is clear: don't drink and drive.
Jon Woods, General Manager, Coca-Cola Great Britain and Ireland said:
The holiday period is coming around quickly and everyone is beginning to make their plans. With the majority of adults preparing to visit a pub or bar over the festive period we are proud to be partnering the government's THINK! Initiative to reward responsible drivers. Designated drivers provide a fantastic service by helping their friends and family get home safely at the end of a night out. That's why we think it is so important to recognise and reward them. To do this we will be offering a free Coke or Diet Coke to drivers, ensuring they have a good night too and to encourage others to do the right thing.
The THINK! drink drive campaign runs from 1 December 2011 to 1 January 2012. For more information and the facts.
Designated drivers should ask at the bar about how to take advantage of the buy one, get one free offer on Coca-Cola or Diet Coke at participating venues from 9 December 2011.
Notes to editors
The total Christmas 2011 THINK! Drink Drive campaign budget is £660,000.
For the latest road casualty figures please see Reported Road Casualties Great Britain: 2010
To listen to the ads online visit the website.
The Department for Transport's Drink Drive campaign has had a long-standing and well supported partnership with the on-trade and soft drinks industry. In December 2009, this was developed into the 'Driver Friendly' campaign which aims to support the designated driver through the provision of promotional offers and 'rewards', linked to the purchase of soft drinks, on their night out. Coca-Cola is the lead Driver Friendly partner for Christmas 2011.
If venues are interested in getting involved in the Driver Friendly campaign in 2012, they should contact us at: DfTPublicity@dft.gsi.gov.uk
Published 6 December 2011